You are currently browsing the tag archive for the '2014 Incheon Asian Games' tag.
JYJ werden bei der Eröffnungszeremonie am 19.09.2014 (Freitag) um 21:44 Uhr (koreanischer Zeit) auftreten.
————————————————-
JYJ performance schedule: 2014.09.19 (Fri) 9:44pm KST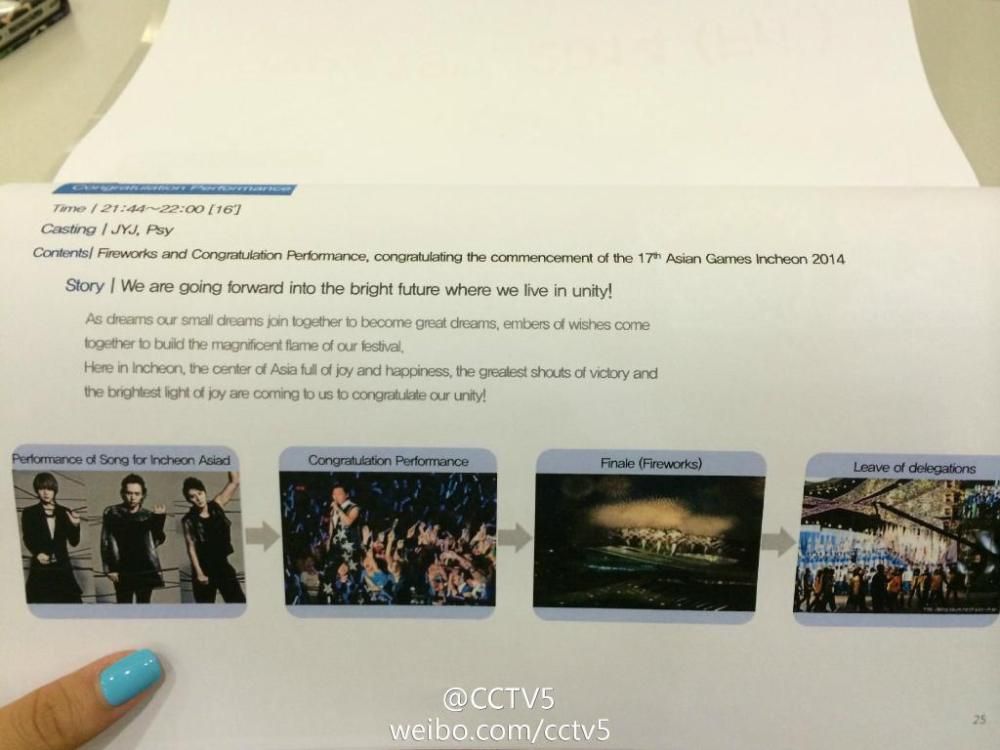 Credit: As Tagged & @shinkipeia
Shared by: WBC + Xiah Shining Star Germany
Übersetzung: JYJ, ehrenamtliche Botschafter der Incheon Asian Games, werden auf der Bühne der Eröffnungszeremonie der Incheon Asian Games stehen, welche am 19.September statt finden wird. Neben dem offiziellen Theme Song, werden JYJ noch einen Song performen. Wir erwarten euer gespanntes Interesse!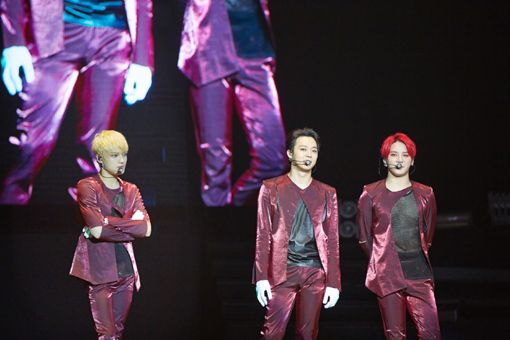 Source: sports.donga
Credit: JYJ Official
German trans by: Xiah Shining Star Germany
Shared by: WBC + Xiah Shining Star Germany
Nach vielen Gesprächen und Konflikten, werden JYJ bei den Incheon Asian Games 2014 auftreten.
Laut C-JeS Entertainment am 20.August, werden JYJ an der Eröffnungszeremonie der Incheon Asian Games 2014, am 19.September im Incheon Asiad Main Stadium teilnehmen und dort den offiziellen Song der Spiele, Only One, singen.
—————————————————————-
After much talk and conflict, JYJ will be participating at the 2014 Incheon Asian Games.
According to C-JeS Entertainment on August 20, JYJ will attend the Opening Ceremony of the 2014 Incheon Asian Games on September 19 at the Incheon Asiad Main Stadium, where the members will sing the Asian Games official song, Only One.
Read the rest of this entry »
Es sieht aus, als seien JYJ in eine weitere Kontroverse in ihrem Heimatland verwickelt worden.
Am gestrigen Tag wurde berichtet, dass die Gruppe bei dem Event zur Gratulation für die "Incheon Asian Games 2014″ auftreten würde. Dies wurde zu einem großen Thema für das Trio, da sie nicht zur Pressekonferenz des Events eingeladen worden waren, bei der unter Anderem verkündet wurde, welche Künstler bei der Eröffnung- und Abschlussveranstaltung auftreten werden, obwohl sie als offizielle, ehrenamtliche Botschafter der Spiele gelten.
Die Details wurden bei der Pressekonferenz der "Incheon Asian Games 2014″ im Grand Ballroom des Millenium Seoul Hilton Hotels offenbart.
C-JeS Entertainment, JYJ's Agentur, veröffentlichte ein offizielles Statement zu dieser Angelegenheit, welche ihre Unzufriedenheit über diese unfaire Behandlung die sie vom Komitee erhielten, ausdrückt. Die Agentur sagte, dass JYJ sehr hart dafür gearbeitet hatten, um ihre Pflichten als Botschafter zu erfüllen, in dem sie alle werbenden Aktivitäten, welche das Singen des Theme Songs für das Event und das Mitwirken in ausländischen Promotionen seit vergangenen Jahres beinhaltet, absolviert hatten.
Die Agentur erwähnte außerdem, dass das Organisationskomitee, JYJ versprochen hatte, dass sie bei der Abschlussveranstaltung auftreten werden, plus eine mögliche Zusammenarbeit mit Psy. Dennoch wurde kein Kontakt seither hergestellt.
Dann plötzlich, wurde der Name der Gruppe während der Verkündung der Haupt-Künstler für auch nur irgendeines der Events, nicht einmal erwähnt, lediglich wurde angemerkt dass sie beim Gratulationsempfang auftreten würden, welche bereits vor der Eröffnung statt finden würde.
Am Ende des Statements, beurteilte C-JeS Entertainment die Sache als Vertragsbruch und rief zur Unterstützung auf. Es sind nicht nur JYJ welche darunter leiden, sondern auch lokale und internationale Fans, welche die Gruppe unterstützen. Read the rest of this entry »
Das offizielle Album der 2014 Incheon Asian Games wurde heute veröffentlicht und enthält viele Songs von vielen berühmten Künstlern aus der ganzen Welt, inklusive Südkorea. Das Album macht den Slogan 'Vielfalt scheint hier' zur Beschreibung für die vielen verschiedenen Genres auf der Songliste.
Das Album umfasst 2 verschiede CDs. Die erste CD beinhaltet Songs von internationalen Künstlern wie Queen, Maroon 5, Katy Perry und Lady Gaga. Auf der zweiten CD sind viele berühmte asiatische Künstler vertreten, inklusive JYJ, Sa Ding Ding, Perfume, Soda Green und der offizielle Song des Events 'Hymm'.
Neben der CD gibt es auch eine DVD, welche auch das Video 'Only One' von JYJ und das Making Of dazu enthält. Fans können das Album in 2 Versionen kaufen – Standard und Deluxe Version welche eine anderen CD Hülle hat.
 Momentan arbeiten JYJ an ihrem neuen Album welches im Juli erscheinen wird und welches vielleicht das letzte Projekt von ihnen wird bevor sie sich in den Wehrdienst begeben. JaeJoong dreht momentan für das Dorama 'Triangle', Yoochun ist inmitten seiner Fanmeeting Tour und Junsu bereitet sich auf sein Musical 'Dracula' vor welches im nächsten Monat anläuft.
—————————————-
The official album of the 2014 Incheon Asian Games was officially released today featuring a number of songs from a number of popular artists around the world, including South Korea. The album brings the slogan "Diversity Shines Here" into account for the variation of genres in its list of songs.
The album consists of two different CDs. The first CD consists of songs from the international artists like Queen, Maroon 5, Katy Perry, and Lady Gaga. On the other hand, the second CD comprises the songs from a number of popular Asian artists, including JYJ, Sa Ding Ding, Perfume, Soda Green and the official song of the event, "Hymm".
Besides the CD, there is also a DVD, which includes the music video of JYJ's theme song for the Asian Games, "Only One", and the making of the video. Fans can buy the album in two different versions, standard or deluxe version, which came with a jewel case.
Meanwhile, JYJ are currently preparing for a new album release in July, which will probably be the last project before the members entered their military service period. Jaejoong is currently starring in the drama "Triangle", Yoochun is in the middle of his fan meeting tour and Junsu is preparing for his musical "Dracula" that will open next month.
Credit: ttwigo
German Translation: Xiah Shining Star Germany
Shared by: WBC + Xiah Shining Star Germany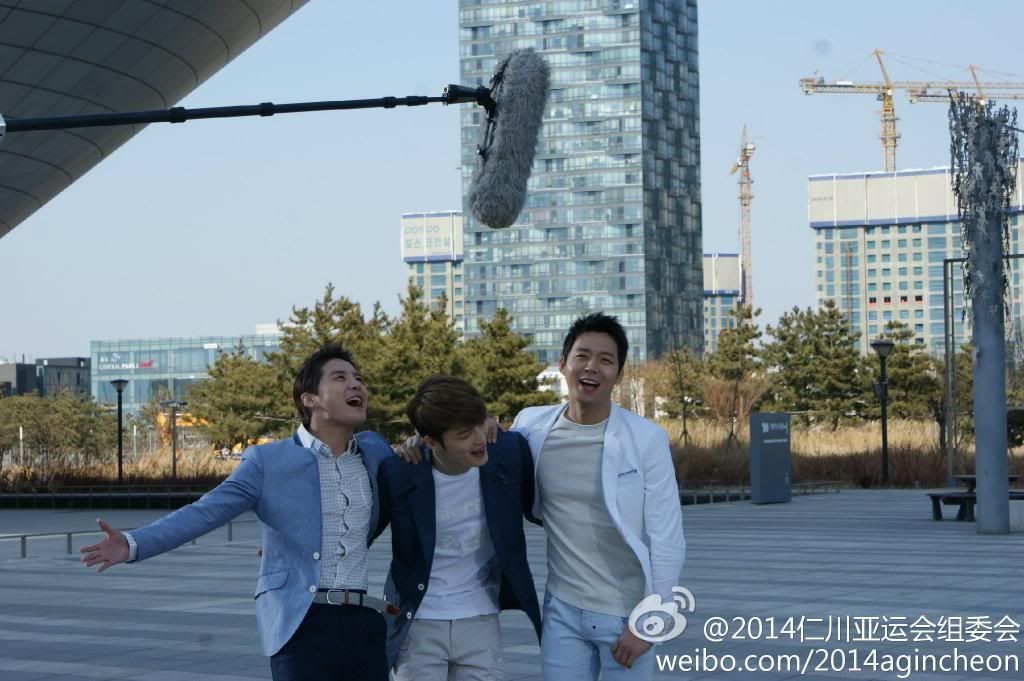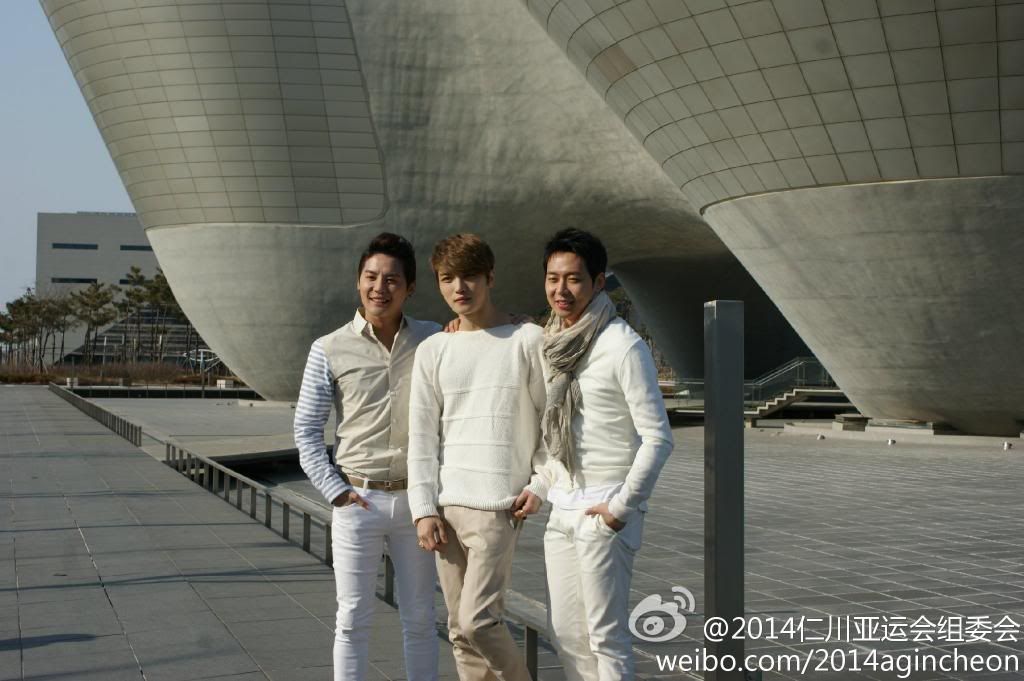 Sources: 2014仁川亚运会组委会
Shared by: JYJ3 + Xiah Shining Star Germany