You are currently browsing the tag archive for the 'JaeJoong' tag.
Source: KWAVE Weibo
Credit: Shinkipeia
Shared by: WBC + Xiah Shining Star Germany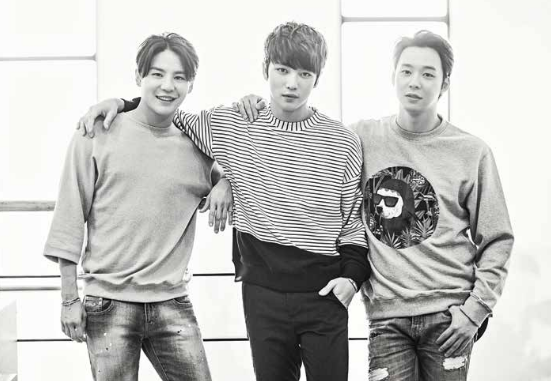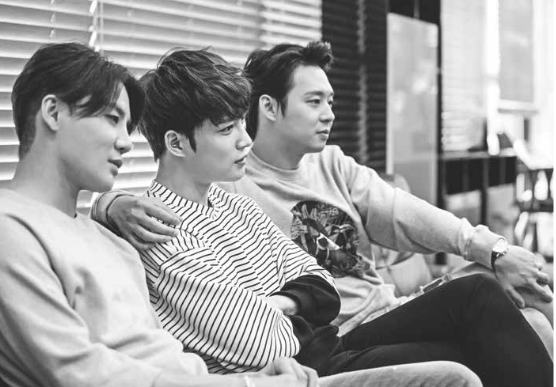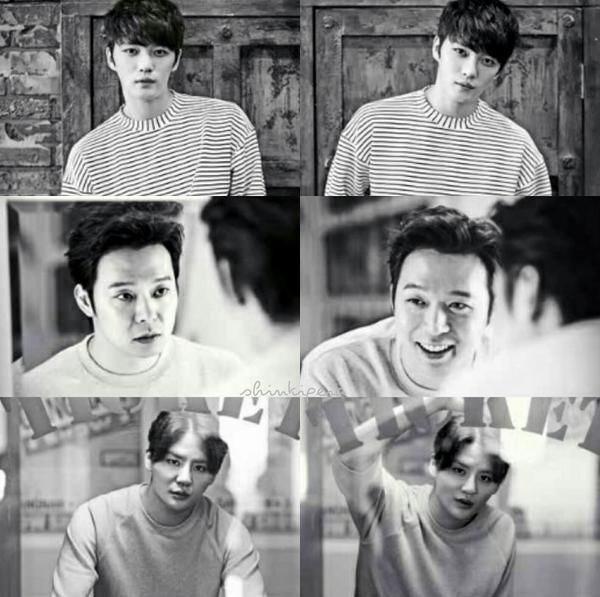 Credit: @shinkipeia
Shared by: WBC + Xiah Shining Star Germany
JYJ brachten Aufregung nach Gangnam, in dem sie beim "Gangnam Hallyu Festival" auftreten.
Am 6.Oktober verkündete C-JeS Entertainment, dass JYJ in der Mitte des Stadtteils Gangnam, ein Solo Konzert gegeben haben. Gemeinsam mit ihrem vergangenen Konzert im Jamsil Stadium in Seoul, brachte dies ein weiteres erfolgreiches Konzert für JYJ ein. 
Fans aus der ganzen Welt kamen nach Korea um JYJ zu sehen, so dass der Verkehr in der Gangnam durch 50.000 Fans eingefroren wurde, welche es kaum abwarten konnten, JYJ zu sehen. Jene enttäuschten ihre Fans wenig später auch nicht, in dem sie für zwei Stunden mit etwa 20 Songs performten. 
JYJ performten Songs aus verschiedenen Richtungen, inklusive Pop, Dance, Rock, Akustik, R&B und mehr. Jeder der Mitglieder zeigte ebenfalls eine individuellen Talente, in dem sie sowohl ihre Songs zu dritt, als auch Solo performten. Doch damit war es nicht genug, denn JYJ coverten auch Songs von anderen Künstlern, da JaeJoong Leejuks "Running in the Sky" sang und Yoochun Mate's "Lean Towards Me".
JYJ bedankten sich bei ihren Fans, in dem sie sagten: "Es ist sechs Jahre her, seitdem wie das letzte Mal ein Straßenkonzert gegeben haben und wir sind so froh dass viele Leute hergekommen sind um uns zu sehen." Mit dem finalen Song "Back Seat", gingen JYJ von der Bühne und bedankten sich nochmals bei ihren Fans, bevor sie einige Minuten später wieder zurück kamen, nachdem die Fans ohne Ende nach einem "Encore" verlangt hatten.
Mithilfe dieser Show demonstrierten JYJ die Erfahrung von Veteranen K-Pop Künstlern, und zeigten stabilen Gesang und ein unglaubliches Bühnenbild, sowie präzisen und makellosen Tanz. 
JYJ haben vor kurzem ihre Asientour erfolgreich beendet, nachdem sie in zahlreichen Städten, wie Hong Kong, Taipei, Peking, Bangkok und Seoul auftraten. Glückwünsche an JYJ für ein erfolgreiches Konzert! Read the rest of this entry »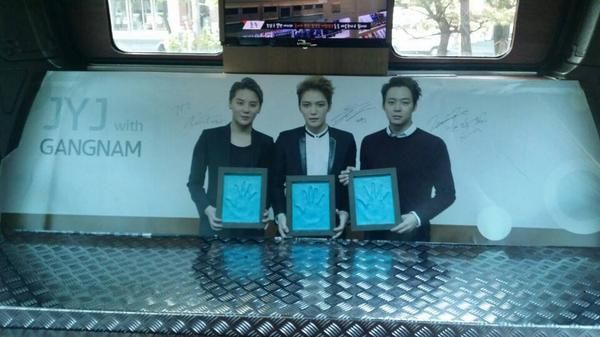 Source: Gangnam District Facebook
Shared by: WBC + Xiah Shining Star Germany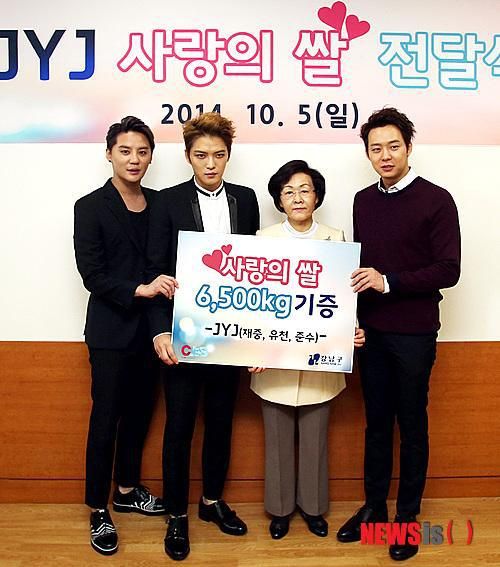 Source: As Tagged
Shared by: WBC + Xiah Shining Star Germany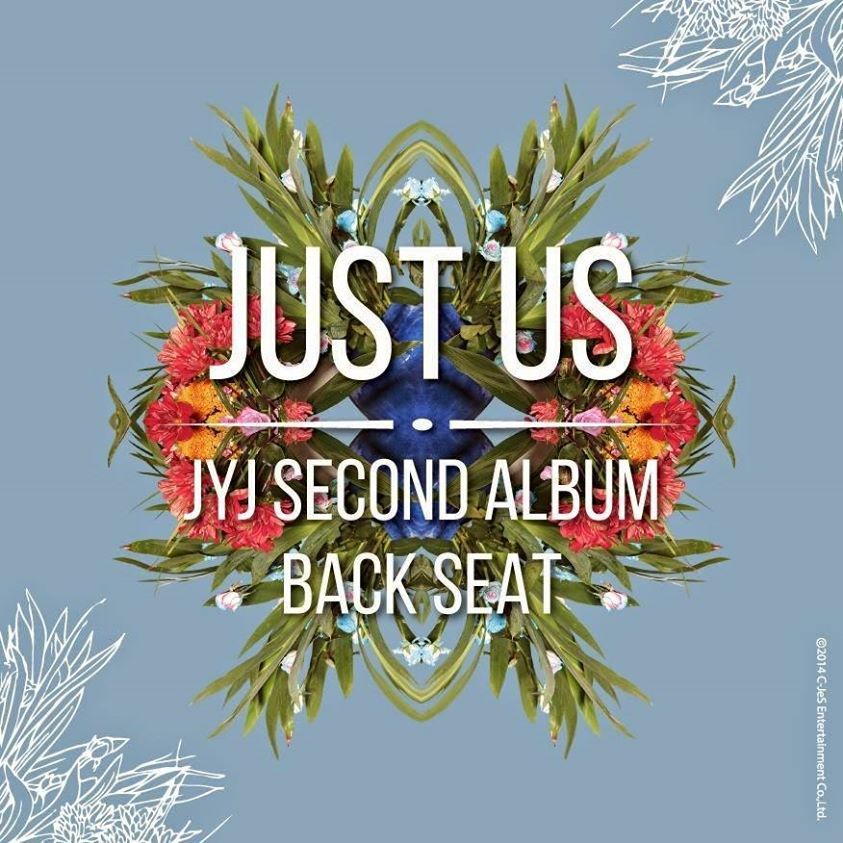 01. BACK SEAT//Rücksitz
Lyrics by: 김태완, 동네형, 원영헌
Composed by: 김태완, 동네형, 원영헌
Arranged by: 김태완, 동네형, 원영헌
Guitar: 이성열 / Drum: 강수호 / Piano & Keyboards: 김태완, 동네형, 원영헌 / Chorus: 김태완
DEUTSCH
In Ordnung Mädchen
Hab keine angst davor
Ich werde dich auf meinen Rücksitz schieben
Hier das
Komm etwas näher
Ich rieche etwas gutes
Löse deinen Gurt
Lehne dich an meine Schulter
Sei nicht nervös
In Ordnung Mädchen
Du musst jetzt keine Angst haben
uh-huh
Mit deinen Armen
umfasst du sachte meine Taille
Mit deinen Lippen,
flüsterst du lieblich in mein Ohr
In Ordnung Mädchen
Ich möchte deinen Körper die ganze Nacht berühren
Du willst mehr davon
Du vertraust mir
Folge mir
Ich schiebe dich auf meinen Rücksitz
Rücksitz
Rücksitz
Lass deine Gefühle laufen
Du musst nicht dagegen ankämpfen
Sei nicht schüchtern
Ich schiebe dich auf meinen Rücksitz
Rücksitz
Rücksitz
Jetzt lass uns beginnen – auf meinen Rücksitz
Beruhige deine nervösen Gefühle
Das ist das was ich jetzt will
Dieses unbehagliche Gefühl, die Zeit ist um,
in diesem Moment stoppt es
Es ist Zeit unsere eigene Sprache zu sprechen
Diese Nacht wird von dem Geräusch unseres Atems erfüllt sein.
Jetzt sind keine Worte nötig
Nichts kann uns stoppen
Weißt du nicht, dass es nur darum geht?
Du willst mehr davon
Du vertraust mir
Folge mir
Ich schiebe dich auf meinen Rücksitz
Rücksitz
Rücksitz
Lass deine Gefühle laufen
Du musst nicht dagegen ankämpfen
Sei nicht schüchtern
Ich schiebe dich auf meinen Rücksitz
Rücksitz
Rücksitz
Jetzt lass uns beginnen – auf meinen Rücksitz
Selbst den kleinsten laut deines Atems
will ich besitzen
Schau uns an, wir sind anders als in den typischen Liebesgeschichten
Lass uns auch das letzte Gefühl nehmen
Baby, nur darum geht es
Du und ich wollen einander
Du willst mehr davon
Du vertraust mir
Folge mir
Ich schiebe dich auf meinen Rücksitz
Rücksitz
Rücksitz
Lass deine Gefühle laufen
Du musst nicht dagegen ankämpfen
Sei nicht schüchtern
Ich schiebe dich auf meinen Rücksitz
Rücksitz
Rücksitz
Jetzt lass uns beginnen – auf meinen Rücksitz
Die Stimmung ist richtig
Mädchen, du kannst es ins rollen bringen
Ich kann dich auf meinen Rücksitz schieben
Du weißt was als nächstes kommt – Rücksitz Read the rest of this entry »