Tag Archive
You are currently browsing the tag archive for the 'message from JYJ' tag.
JYJ: Neues Semester, habt ihr neue Freunde getroffen? Es gibt auch neue Studenten die angenommen wurden, nicht wahr? Kommt gut miteinander aus~ Lasst sie etwas JYJ Musik hören~~ haha
JYJ: New semester, met new friends? There are also new students admitted isn't it? Get along well~ Let them hear some JYJ music~~haha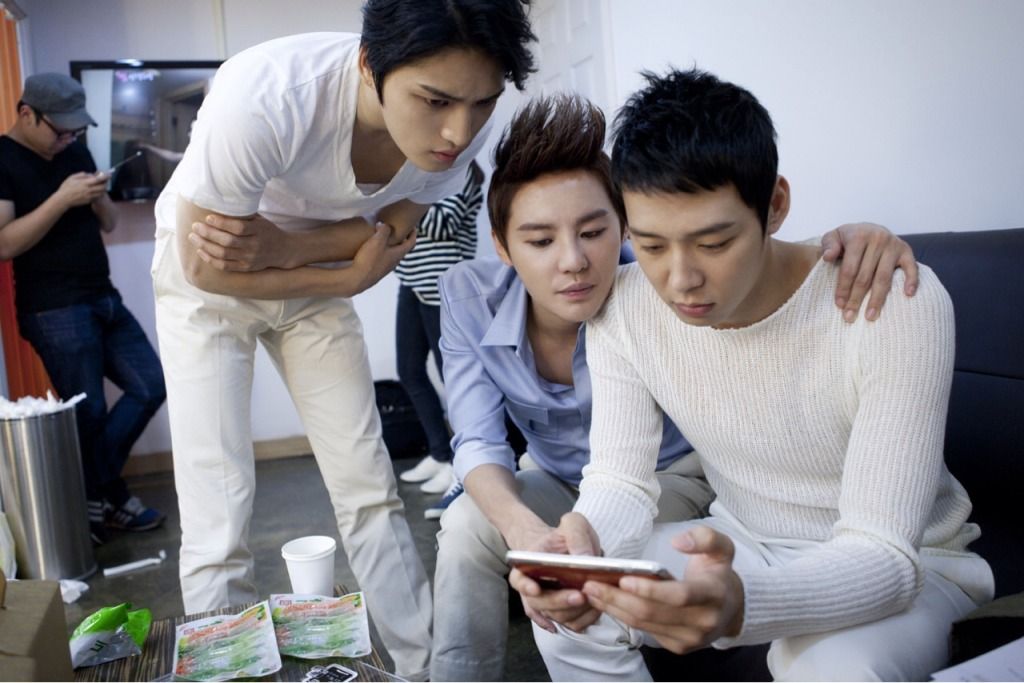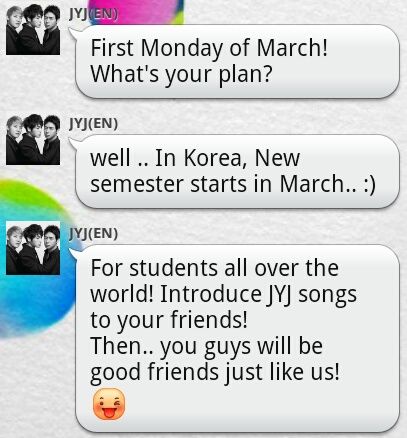 JYJ sendeten Videomessages an die Mitglieder und Fans! Dies ist eine kurze Preview auf die DVD des JYJ Magazins!
Das komplette Video werdet ihr sehen können, sobald das JYJ Magazin veröffentlicht wird! Und das wird sehr bald geschehen!
Besucht den C-JeS Store um "The JYJ" Magazin zu bestellen.
————————-
JYJ sent video messages to members and fans! This is the short preview for JYJ magazine DVD!
You can see the full version video when JYJ magazine comes out! And it's very soon!
Visit C-JeS Store to order 'The JYJ' Magazine.
JJ an YC: Yoochun-ah, hier ist Jaejoongie hyung. 1000 Tage… erscheinen so kurz.
JJ an JS: Hi Junsu-yah, hier ist Jaejoongie hyung. Wir kennen uns bereits seit 12 Jahren. Bitte weiche mir nicht aus, wenn ich dich umarmen oder dir einen Kuss geben will. Haha.
YC an JJ: JaeJoongie hyung, durch dich und Junsu-yah war ich in der Lage dort zu sein, wo ich heute bin.. Danke dafür.
YC an JS: Seit wir als JYJ angefangen haben, frage ich mich ob ich dich zurück halte (Scherz). Ich liebe dich. Ich liebe dich.
JS an JJ: Jaejoongie hyung, auch wenn ich schüchtern erscheine wenn du mir deine Zuneigung zeigst oder mich berührst, im Geheimen bin ich sehr glücklich darüber.
JS an YC: Yoochun-ah, auch wenn ich dich als letztes traf, können wir ohne Worte kommunizieren. Wir stehen uns näher als irgendwer sonst. Danke und Yoochun-ah, Ich liebe dich. haha
JS: Durch euch waren wir in der Lage bis heute durch zu halten. Wir danken euch dafür sehr und ich liebe euch.
JJ: 1000 Tage.. das finde ich wirklich gut.
YC: Vielen Dank an euch dafür und ich liebe euch.
Trans:
Hello.
I'm XIA and gonna meet you at concerts to be held in New York and LA.
Most of all, a new song will be introduced at the coming concerts in America so that I hope you look forward to the concerts.
Then, see you at the venue.
Bye~
—————–
Übersetzung:
Hallo.
Ich bin XIA und ich werde euch alle schon bald auf den Konzerten in New York und LA sehen.
Besonders wird der neue Song vorgestellt bei den bevorstehenden Konzerten in Amerika, deshalb hoffe ich dass ihr euch auf die Konzerte freut.
Also dann, ich treffe euch vor Ort.
Tschüss~
Credit : utbhollywood18
Translated by : Chocolat
German trans by: Xiah Shining Star Germany
Shared by : xiahpress + Xiah Shining Star Germany
Junsu will hold a concert in Taiwan on June 23rd!!
Source + Credit: HeyfordEntertainmen
Shared by: Xiah Shining Star Germany
Source: abbayakbar
Shared by: Xiah Shining Star Germany
Source: cjesjyj
Translated by: Gokoreatube
Shared by: Xiah Shining Star Germany