You are currently browsing the tag archive for the 'news' tag.
[Date & Venue]
Nov 18 (Tues): Tokyo Dome 16:00/18:00 (Doors open/Performance Start)
Nov 19 (Wed): Tokyo Dome 15:30/17:30
Dec 13 (Sat): Kyocera Dome Osaka 16:00/18:00
Dec 14 (Sat): Kyocera Dome Osaka 15:00/17:00
Dec 23 (Tues, National holiday): Fukuoka Yahuoku! Dome 16:00/18:00
Dec 24 (Wed): Fukuoka Yahuoku! Dome 16:00/18:00
Source: JYJ Japan
Translated by: @yunhosmiley
Shared by: WBC + Guardian Angel JaeJoong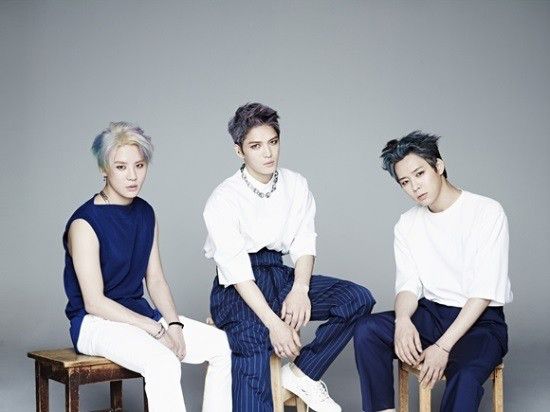 Wir danken allen JYJ Fans, welche seit langer Zeit JYJ immer unterstützt haben, von ganzem Herzen.
Seit dem Konzert im Tokyo Dome im Jahr 2013, sind beinahe ein Jahr und sieben Monate verstrichen. Dieses Mal haben sich JYJ dazu entschieden, ein Comeback in Form einer Japan Dome Tour zu starten. 
JYJ sind zu dem Schluss gekommen, die Konzert von November bis Dezember in den größten Städten Japans zu geben, darunter Tokyo und Osaka. Detailierte Informationen zum Tourplan und Ticketverkauf werden später veröffentlicht, sobald entsprechende Entscheidungen getroffen wurden.
Wir halten euch auf dem Laufenden.
Und, JYJ's erste japanische Single wird ebenfalls veröffentlicht werden!!! Wir hoffen auf reges Interesse und Aufmerksamkeit für die kommende Single, sowie die Konzerte in Japan.
Von JYJ Japans Offizieller Webseite
———————————————-
We're heartily thankful to all JYJ fans who are always supporting JYJ for a long time.
It's been nearly 1 years 7 months since Tokyo dome in 2013. This time, JYJ decided to make comeback as holding JYJ's Japan concert dome tour.
JYJ reached decision to hold concert from November to December in major cities in Japan which are Tokyo and Osaka, the detailed information of tour schedule and ticket sale will be announced later on as soon as decision is made.
Please stay tuned.
And, JYJ's 1st Japanese single is also going to be release!!! Hope to receive much anticipation and attention for this expected single as well as Japan concert.
From JYJ Japan Official Website
Source: http://jyjjapan.jp/
Translated by: @pearls_purple
German trans by: Xiah Shining Star Germany
Shared by: WBC + Xiah Shining Star Germany
JYJ brachten Aufregung nach Gangnam, in dem sie beim "Gangnam Hallyu Festival" auftreten.
Am 6.Oktober verkündete C-JeS Entertainment, dass JYJ in der Mitte des Stadtteils Gangnam, ein Solo Konzert gegeben haben. Gemeinsam mit ihrem vergangenen Konzert im Jamsil Stadium in Seoul, brachte dies ein weiteres erfolgreiches Konzert für JYJ ein. 
Fans aus der ganzen Welt kamen nach Korea um JYJ zu sehen, so dass der Verkehr in der Gangnam durch 50.000 Fans eingefroren wurde, welche es kaum abwarten konnten, JYJ zu sehen. Jene enttäuschten ihre Fans wenig später auch nicht, in dem sie für zwei Stunden mit etwa 20 Songs performten. 
JYJ performten Songs aus verschiedenen Richtungen, inklusive Pop, Dance, Rock, Akustik, R&B und mehr. Jeder der Mitglieder zeigte ebenfalls eine individuellen Talente, in dem sie sowohl ihre Songs zu dritt, als auch Solo performten. Doch damit war es nicht genug, denn JYJ coverten auch Songs von anderen Künstlern, da JaeJoong Leejuks "Running in the Sky" sang und Yoochun Mate's "Lean Towards Me".
JYJ bedankten sich bei ihren Fans, in dem sie sagten: "Es ist sechs Jahre her, seitdem wie das letzte Mal ein Straßenkonzert gegeben haben und wir sind so froh dass viele Leute hergekommen sind um uns zu sehen." Mit dem finalen Song "Back Seat", gingen JYJ von der Bühne und bedankten sich nochmals bei ihren Fans, bevor sie einige Minuten später wieder zurück kamen, nachdem die Fans ohne Ende nach einem "Encore" verlangt hatten.
Mithilfe dieser Show demonstrierten JYJ die Erfahrung von Veteranen K-Pop Künstlern, und zeigten stabilen Gesang und ein unglaubliches Bühnenbild, sowie präzisen und makellosen Tanz. 
JYJ haben vor kurzem ihre Asientour erfolgreich beendet, nachdem sie in zahlreichen Städten, wie Hong Kong, Taipei, Peking, Bangkok und Seoul auftraten. Glückwünsche an JYJ für ein erfolgreiches Konzert! Read the rest of this entry »
JYJ schlossen erfolgreich die zweite Runde ihres Fansign Events für ihr Alsbum 'Just Us' ab.
Am 29.09.2014 fand das Event im Yongsan I'Park Mall statt.
C-JeS Entertainment teilte am 01.10.2014 mit: 'Die zweite Runde des Fansign Events, welche stattfand weil der Andrang bei der ersten Runde so groß war, brachte nicht nur die ausgewählten Fans mit sich sondern auch nicht ausgewählte Fans und Fans aus aller Welt.'
Die erste Runde des Events, welche im August im IFC mall stattfand, brachte eine größere anzahl Fans mit sich als erwartet und auch die zweite runde machte die Leidenschaft der Fans, welche JYJ sehen wollten, deutlich. 
Das Event versammelte Fans jeden Alters, jeder Herkunft und jeden Geschlechts. Von Muslimen welche Kopftücher trugen über männliche Fans bis hin zu Kindern und Müttern in den 50ern. 
————————————————-
JYJ successfully wrapped up its second round of fan signing events in celebration of release of the second album Just Us.
JYJ held its fansigning event on September 29 at Yongsan I'Park Mall.
C-JeS Entertainment stated on October 1, "The second round of fan signing events, which was held thanks to the heated response to the first round, gathered not only the selected fans but those who were not selected as well, bringing together fans from all over the world."
The first round of the event, which was held in the beginning of August in IFC mall, had gathered a greater number of fans than expected and the Yongsan fan signing event also proved the fans' passion to see JYJ.
The event gathered fans across all ages, nationalities and genders, from Muslim fans wearing hijabs to male fans and from young children to mothers in their 50's.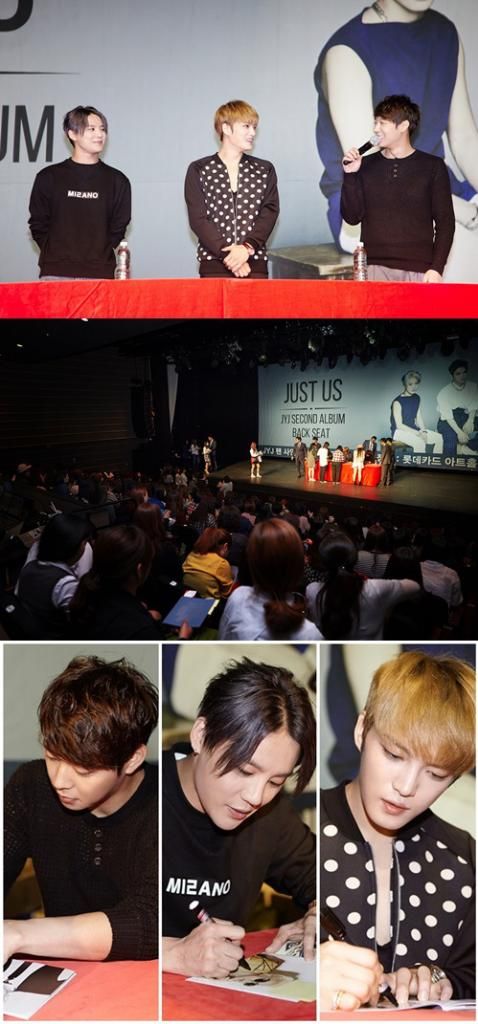 Read the rest of this entry »
JYJ sind das neue Gesicht des medizinischen Tourismus für Korea.
————————————————-
JYJ has been named the new faces of Korea medical tourism.
Am 29.09.2014 teilte die koreanische Tourismus Organisation mit, dass das neu aufgebaute medizinische Programm 'Visit Medical Korea' am 01.10.2014 anlaufen wird. Die Organisation benannte außerdem JYJ als ehrenamtliche Botschafter des medizinischen Tourismus. 
Da innerhalb der letzten Jahre immer mehr Patienten nach Korea gekommen sind hat sich die Organisation dazu entschieden das 'Visit Medical Korea' aufzubauen um das Image des koreanischen Tourismus aufzubessern indem sie es einfacher für Patienten macht.
Dieses Programm hält Informationen zu unterschiedlichen Dienstleistungen für unterschiedliche Bereiche der Medizin, welche interessant sind oder gebraucht werden, bereit.
Die Eröffnungszeremonie findet am 01.10.2014 in dem Tourism Information Center of the Korea Tourism Organization statt. JYJ werden daran teilnehmen.
————————————————-
On September 29, the Korea Tourism Organization announced the newly constructed Korea medical tourism platform, Visit Medical Korea will open on October 1. The organization also named JYJ as the new honorary ambassadors of Korea medical tourism.
With the increase of medical tourists coming into Korea over the past several years, the Korea Tourism Organization decided to create Visit Medical Korea to better the image of Korean tourism by making it easier for medical tourists.
The platform provides information on different medical tourism packages and services for various areas of medicine for those who are interested or in need.
Visit Korea Medical will have its grand opening ceremony on October 1 at the Tourism Information Center of the Korea Tourism Organization. JYJ is expected to attend.
Photo Credit: C-JeS Entertainment
Credit: mwave
German Translation: Xiah Shining Star Germany
Shared by: WBC + Xiah Shining Star Germany
JYJ haben mit ihrem Konzert in Thailand erfolgreich ihre Tour durch Aisen beendet.
C-JeS Entertainment teilte am 26.09.2014 mit: 'JYj haben das Finale ihrer Tour am 25.09.2014 in 'Challenger Hall 1, Muang Thong Thani' abgehalten. Das Konzert versammelte über 10.000 Fans aus Thailand.'
JYJ sangen während des Konzertes mehrere Hits wie Let me See, So So, In Heaven und mehr. Zum Ende des Konzertes sagten JYJ: 'Wir sind traurig wenn wir bedenken wie kurz diese Aisen Tour ist. Wir danken euch für eure Liebe während der Tour und wir voll mit Energie geladen. Wir hoffen, dass ihr alle gesund und glücklich sein werdet.'
————————————————-
JYJ wrapped up its Asia tour with the finale concert in Thailand.
C-JeS Entertainment revealed on September 26, "JYJ held its final Asia tour concert on September 25 in 'Challenger Hall 1, Muang Thong Thani.' The concert gathered over 10,000 fans from Thailand."
JYJ performed numerous hit songs during the concert, including Let me See, So So, In Heavenand more. Towards the end of the concert, the JYJ members said, "We're sad to the point of thinking that this Asia tour was too short. We were thankful to be able to feel your love as we carried out the tour and were greatly energized. We hope that you will all be healthy and happy."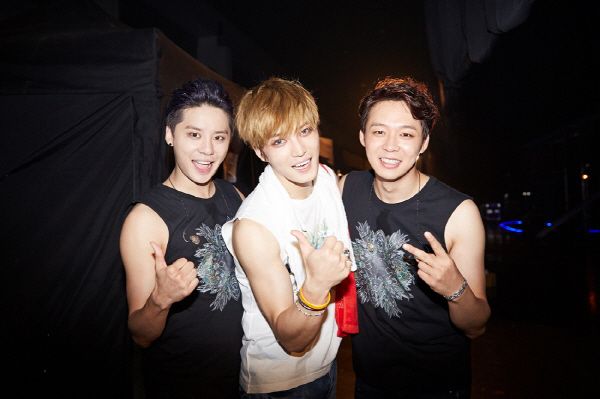 Mit dem finalen Konzert endete die Asien Tour von JYJ welche im August in Seouk begann und danach nach Hong kong, Peking, Ho Chi Minh, Chengdu und Taipei führte. Isgesamt kamen für diese JYJ Tour 100.000 Fans zusammen.
JYJ wurden eingeladen auf dem Gangnam Hallyu festival am 05.10.2014, mit einem Solokonzert in Youngdong-daero in Gangnam aufzutreten.
————————————————-
With the final concert, JYJ ended the Asia tour, which began in Seoul in August, followed by concerts in Hong Kong, Beijing, Ho Chi Minh, Chengdu and Taipei. JYJ's Asia tour gathered a total of 100,000 fans.
Meanwhile, JYJ has been specially invited to perform at the Gangnam Hallyu Festival on October 5, launching a solo concert in Youngdong-daero in Gangnam.
Photo credit: C-JeS Entertainment
Credit: Mwave
German Translation: Xiah Shining Star Germany
Shared by: WBC + Xiah Shining Star Germany
Für den Stop ihrer Asien Tour in Taiwan nahmen JYJ an einer Pressekonferenz teil.
C-JeS Entertainment teilte am 11.09.2014 mit: 'JYJ trafen sich vor dem Konzert in Taiwan mit der Presse um ihr Album vorzustellen. Während der Pressekonferenz teilten mit wie sie es fanden nach 3 Jahren wieder in Taiwan zu sein, erzählten Geschichten welche sich hinter den Kulissen der Tour abspielten und sprachen über die Bedeutung ihres Albums.'
Park Yoochun sagte: 'Nach 3 Jahren haben wir wieder ein Album herausgebracht und es ist schon eine Weile her, dass wir in Taiwan waren, aber ich bin glücklich. Wir unterstützen uns während der Tour gegenseitig und ich habe an jedem Konzert Spaß. Wir drei sind so besonders füreinander, dass die Worte Familie, Freunde oder Brüder nicht ausreichen.'
Kim Junsu sagte: 'Ich fühle mich immer gut wenn ich das Land besuche. Ich bin gerade erst mit Dracula fertig, wofür ich 3-4 Monate auf der Bühne stand. Es war ein Projekt was mir erlaubt hat viel zu lernen. Das ganze war eine sehr bedeutungsvolle Zeit für mich.' 
————————————————-
The JYJ members attended a press conference in Taiwan for its Asia tour.
C-JeS Entertainment stated on September 11, "JYJ met with the reporters prior to the concert in Taiwan to introduce the album. During the press conference, JYJ shared on visiting Taiwan in three years, stories behind the Asia tour and the meaning of the new album."
Park Yoo Chun said, "We released a full length album after three years and it has been a while since we came to Taiwan but I feel happy. We supported each other as we carried out the Asia tour and I've been enjoying every single concert. The three of us are so precious to one another to the point that words like family, friends or brothers are not good enough."
Kim Junsu shared, "I feel good every time I visit this city. I recently let go of 'Dracula,' which I spent the past 3-4 months doing and it was a project that allowed me to learn many things and was a meaningful time."
Read the rest of this entry »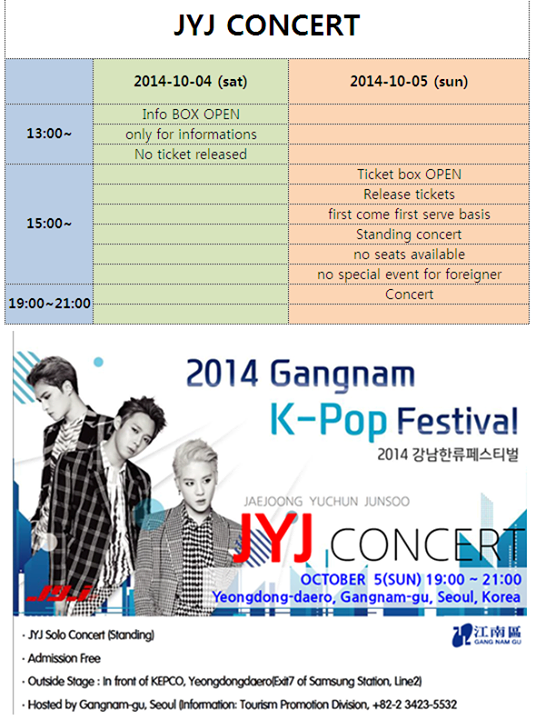 Credit: daesungshop
Shared by: WBC + Xiah Shining Star Germany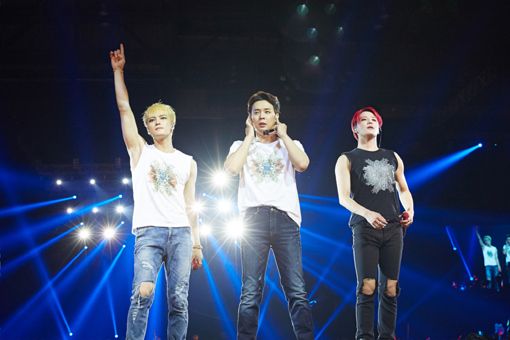 Am 05.10.2014 (Sonntag) um 19:00 Uhr KST findet das JYJ '2014 Gangnam Hallyu Festival' Konzert mit freien Eintritt statt. Eine Bühne wird in  der Yongdongdae-ro vor dem Samseong-dong KEPCO aufgebaut. Der Veranstaltungsort ist 10% größer im Vergleich zu den letzten Jahren und kann 33.000 Besucher aufnehmen. Es ist außerdem eine Zugabe von JYJ's Asian Tour in Seoul.
————————————————-
JYJ '2014 Gangnam Hallyu Festival' free-entry concert will be held on 2014.10.05 (Sun), 7pm KST. A stage will be specially set up at Yongdongdae-ro, at the front of Samseong-dong KEPCO. The venue is 10% bigger as compared to the past years and can hold 33,000 audiences. It's also an encore concert of 2014 JYJ Asia Tour in Seoul.
Source: daum
Translated by: @shinkipeia
German Translation: Xiah Shining Star Germany
Shared by: WBC + Xiah Shining Star Germany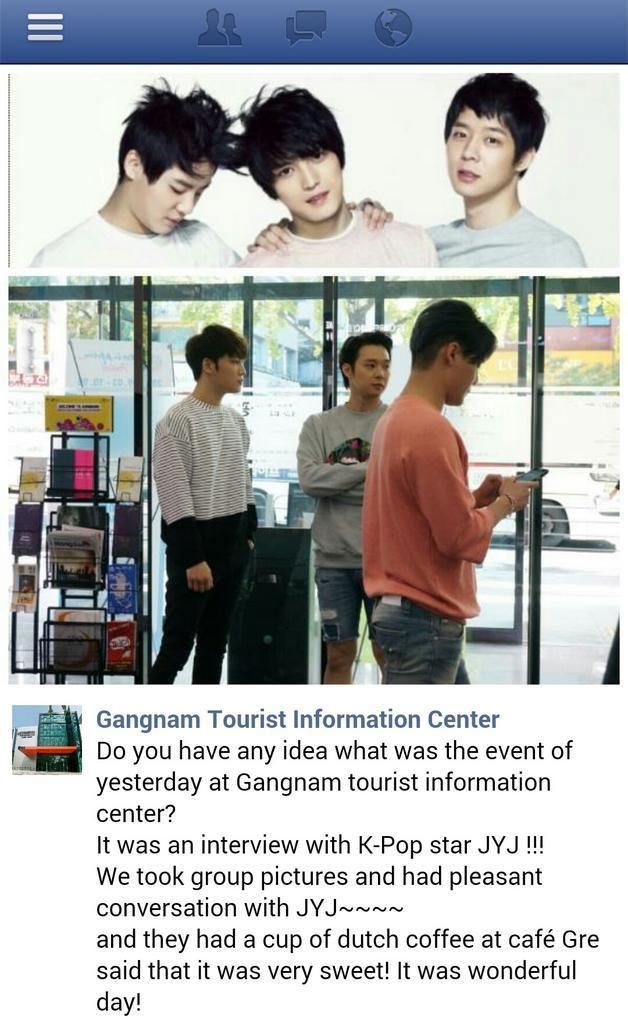 Übersetzung: 
Habt ihr eine Ahngun welches Event gestern im Gangnam tourist information center war? Es gab ein Interview mit den K-Pop Stars JYJ!!! Wir haben Bilder gemacht und hatten eine schöne Konversation mit JYJ~~~~ Und sie haben eine Tasse Dutch Coffee im Café Gre getrunken und sagten, dass dieser sehr süß sei! Es war ein wundervoller Tag!
Source: Gangnam Tourist Information Center
Credit: @shinkipeia
German Translation: Xiah Shining Star Germany
Shared by: WBC + Xiah Shining Star Germany