You are currently browsing the tag archive for the 'news' tag.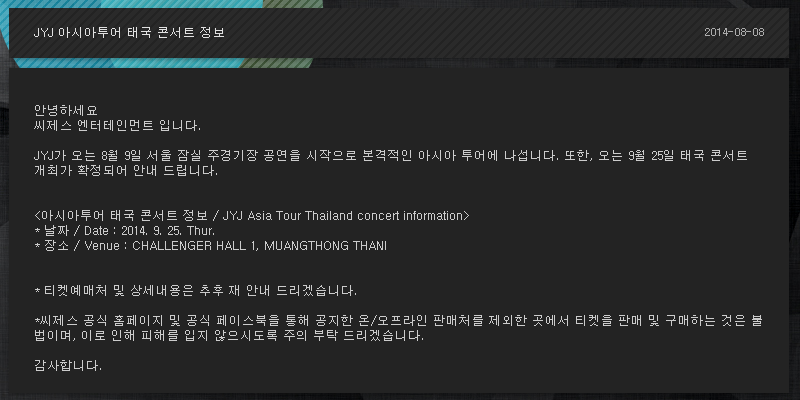 JYJ werden ihre Asien Tour mit ihrem Konzert in Seoul am 9.August im Jamsil Stadium beginnen. Zusätzlich ist dies hier der vollendete Guide für das Konzert in Thailand, das am 25.September statt finden wird.
<JYJ Asia Tour Thailand Concert Information>
Datum: 25.09.2014, Donnerstag
Ort: CHALLENGER HALL 1, MUANGTHONG THANI
Wir werden Sie über den Ticketverkauf und weitere Details später informieren.
Es ist illegal Tickets an anderen Orten als die durch C-JeS' offizieller Homepage und Facebook bekanntgegebenen On- und Offline-Verkäufer zu erwerben und verkaufen. Aus diesem Grund bitten wir dies bestens zu berücksichtigen und keinen Schaden zu verursachen.
—————————————-
JYJ will be launching into their full-scale Asia Tour starting with their concert at Jamsil Stadium in Seoul on August 9. In addition, this is the finalized guide for the concert in Thailand to be held on September 25.
<JYJ Asia Tour Thailand concert information>
* Date : 2014. 9. 25. Thur.
* Venue : CHALLENGER HALL 1, MUANGTHONG THANI
* We'll inform you about tickets reservation location and details later on again.
* It is illegal to sell and buy tickets in other places except the announced on/off-line distributors or through C-JeS official homepage and official Facebook, and because of this, we are requesting that beware of it so to be out of harm's way.
Source: C-JeS Official Homepage 1
Translated & Shared by: JYJ3
German trans & shared by: Xiah Shining Star Germany
Nach vielen Gesprächen und Konflikten, werden JYJ bei den Incheon Asian Games 2014 auftreten.
Laut C-JeS Entertainment am 20.August, werden JYJ an der Eröffnungszeremonie der Incheon Asian Games 2014, am 19.September im Incheon Asiad Main Stadium teilnehmen und dort den offiziellen Song der Spiele, Only One, singen.
—————————————————————-
After much talk and conflict, JYJ will be participating at the 2014 Incheon Asian Games.
According to C-JeS Entertainment on August 20, JYJ will attend the Opening Ceremony of the 2014 Incheon Asian Games on September 19 at the Incheon Asiad Main Stadium, where the members will sing the Asian Games official song, Only One.
Read the rest of this entry »
3hree Voices III setzt sich aus 2 Disc zusammen und wird die Aufnahmen für das JYJ Album in LA (Aufnahme von Valentine) beinhalten sowie privates Filmmaterial von allen drei Mitgliedern von JYJ.
————————————-
3hree Voices III is composed of 2disc & will include JYJ album recording in LA ('Valentine' recording) plus private footage of the 3 members.
Source: HMV Japan
Credit: @DBSKnights
German Translation: Xiah Shining Star Germany
Shared by: WBC + Xiah Shining Star Germany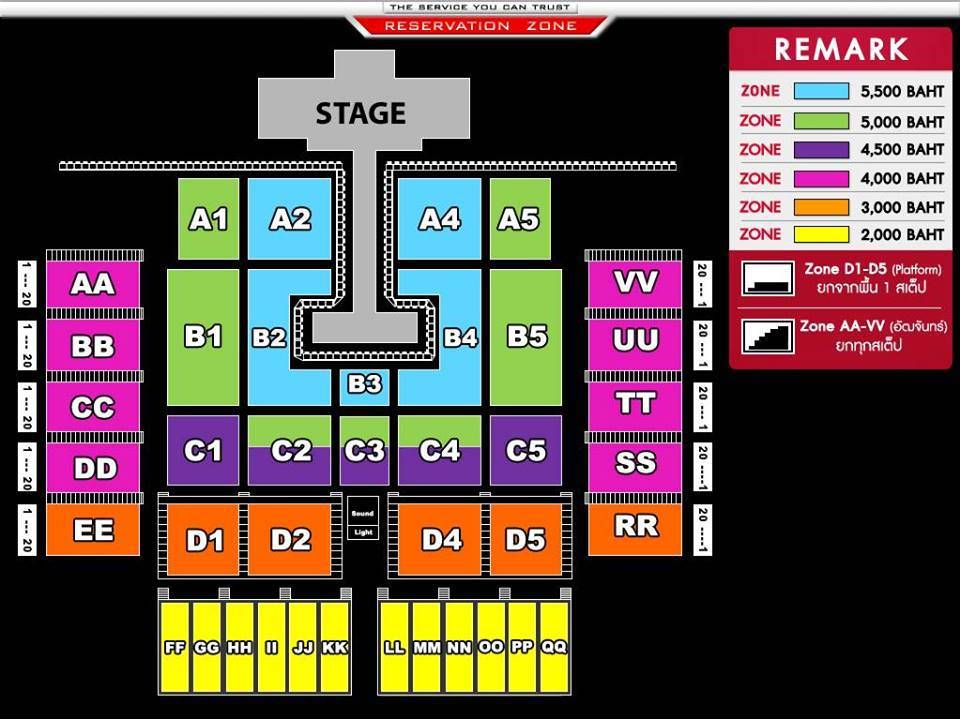 Ticket Preise // Ticket Prices:
Zone Türkis // Turquoise - 129 € / 172 $
Zone Grün // Green - 117 € / 157 $
Zone Violett // Purple - 105 € / 141 $
Zone Pink - 94 € / 125 $
Zone Orange - 70 € / 94 $
Zone Gelb // Yellow - 47 € / 63 $
Ticket Details
2014 JYJ Asia Tour Concert in Thailand
Datum: Donnerstag, 25.September 2014
Uhrzeit: ab 19:30 Uhr
Ort: Challenger Hall 1, Muang Thong Thani
Ticket Vor-verkauf: Samstag, 16. – Sonntag, 17.August 2014
Verkäufer: http://www.eintentmedia.com
Offizieller Ticket Verkauf: Ab Samstag, 23.August
Verkäufer: Thai Ticket Major http://www.thaiticketmajor.com Tel. 02-262-3456
——————————————–
Ticket Information Read the rest of this entry »
Alle JYJ Mitglieder wurden heute früh am morgen am Incheon International Airport gesichtet, da sie auf dem Weg nach Hong Kong, zu ihrem nächsten Stopp ihrer "The Return of The King" Tour sind.
[ausgelassen]
JYJ werden morgen in der Asia World Expo Arena in Hong Kong performen, um ihr zweites Album, "JUST US" zu pomoten, welches vergangenen Juli veröffentlicht worden war. Nach Hong Kong, werden JYJ ihre Asientour in Peking, Vietnam, Chengdu, Taiwan, Shanghai und Thailand fort setzen.
JYJ haben erst kürzlich ihre Asientour 2014 mit einem Konzert in Seoul, mit etwa 30.000 anwesenden Fans, gestartet. JYJ beendeten außerdem zwei Tage nach ihrem Konzert,  ihr erstes Fansign Event nach drei Jahren. Ihr Titelsong "Back Seat" zählt bereits 6 Millionen Aufrufe auf Youtube.
————————————————-
JYJ members were all spotted at the Incheon International Airport early this morning as they are heading to Hong Kong for their first stop of their concert "The Return of The King" this weekend.
[omitted]
JYJ will be performing at the Asia world Expo Arena in Hong Kong tomorrow to promote their second album, "Just Us", which was released last July. After Hong Kong, JYJ will continue their Asia Tour to Beijing, Vietnam, Chengdu, Taiwan, Shanghai and Thailand.
JYJ recently kicked off their 2014 Asia Tour with a concert in Seoul with around 30,000 fans in attendance. JYJ also completed their first fan signing event after three years two days after the concert. Their title song "Back Seat" has also reached 6 million views on Youtube.
Credit: ttwigo
German trans by: Xiah Shining Star Germany
Shared by: WBC + Xiah Shining Star Germany
Die drei Mitglieder von JYJ faszinierten etwa 30.000 Fans, welche den Jamsil Sports Complex am 9.August füllten. JaeJoong, Yoochun und Junsu rockten mit ihren herausragenden Performances das Haus, um die Veröffentlichung ihres zweiten Albums "Just Us" zu feiern.
JYJ zeigten ihre Talente seit Beginn des Konzertes auf der Bühne. Jeder der drei Mitglieder kam mit einer jeweils verschiedenen Haarfarbe und Fashion Statements heraus. JaeJoong hatte goldenes Haar, Yoochun schwarzes und Junsu rockte die rote Farbe mehr als gut. Das Trio eröffnete mit ihrem Song "Be The One" und "Babo Boy".
Der Anfang des Konzertes wurde ebenfalls von Feuerwerk und einer Lasershow markiert. Die Bühne brachte den Fans einen zusätzlichen Adrenalinschub, da die über einen 100-meter langen Steg und eine 80-meter lange Bühne im hinteren Teil des Stadions verfügte, um es JYJ zu ermöglichen, während der Show, näher an ihre Fans heran zu kommen. 
Neben dem auftreten als Gruppe, zeigte jedes Mitglied zusätzlich seine Solo-Performances. Junsu und JaeJoong performten Songs aus ihren jeweiligen Alben, während Yoochun eine Anzahl von OSTs und Cover Songs präsentierte. 
JYJ, welche seit drei Jahren pausierten, vergaßen nicht ihren Fans während den Performances zu danken und sagten, wie sie sehr sie es vermisst hätten, zusammen auf der Bühne zu performen. Da sie in den vergangenen 10 Jahren von Liebe ihrer Fans nur so überhäuft worden waren, sagten sie ebenfalls, dass sie es in Zukunft noch besser machen würden. 
Das Konzert war mit Performances aus ihrem zweiten Album "JUST US" erfüllt und wurde mit dem Titelsong "Back Seat" abgeschlossen.
Nach dem Konzert in Seoul, werden JYJ ihre Asientour in 8 weiteren Städten, darunter Hong Kong, Japan, Vietnam und Shanghai, fort setzen. Read the rest of this entry »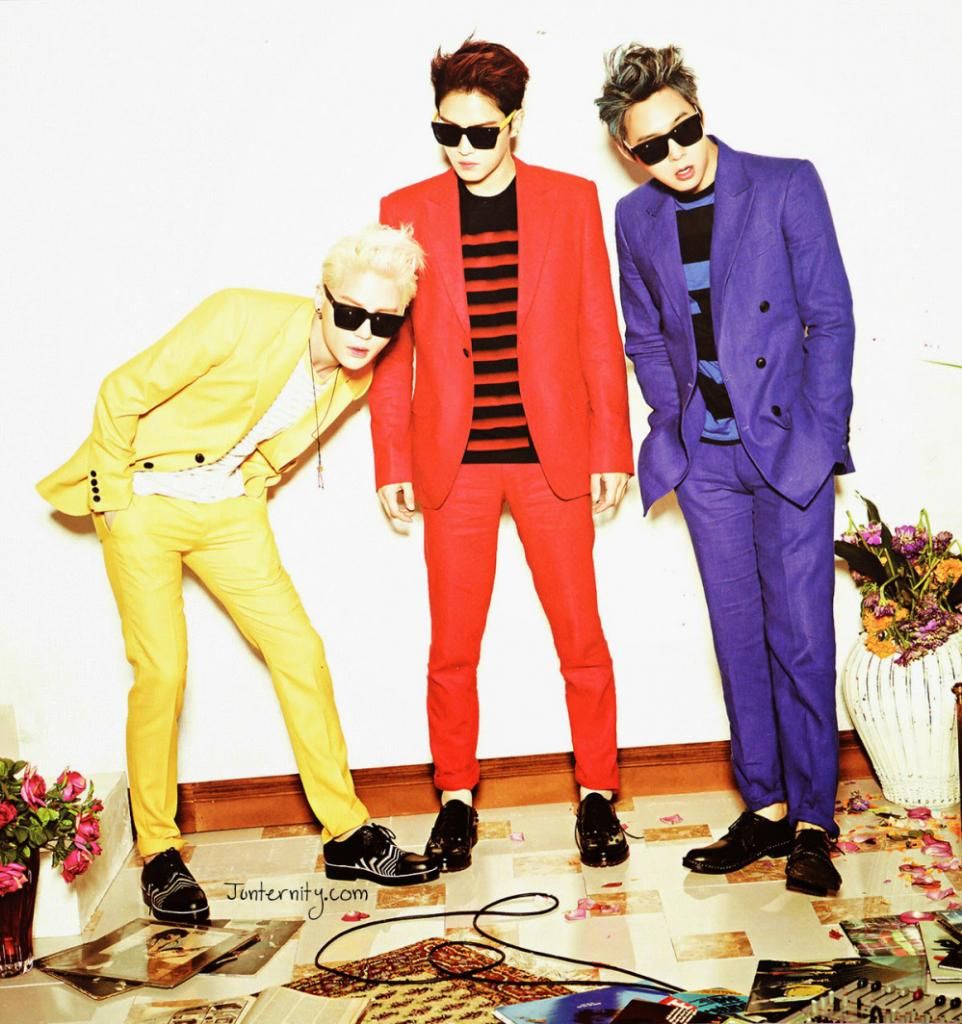 KBS hat einen weiteren Song zu ihrer Liste mit gebannten Songs aufgenommen.
Laut KBS am 6.August, wurde JYJ's "Back Seat" aus ihrem zweiten Album für eine Ausstrahlung als unangemessen eingestuft, da der Song sexuell andeutende Lyrics enthalten würde. Um genau zu sein, gibt es einen Part in den Lyrics, 'Put you on my back seat', welcher an eine inszenierte Affäre zwischen einem Mann und einer Frau appelieren soll.
C-JeS Entertainment antwortete auf dieses Problem, in dem es mitteilte, dass der Song sowohl von MBC als auch von SBS angenommen worden sei und während diese noch darüber diskutieren würden, ob die Lyrics eventuelle Schäden für den eigentlichen Inhalt des Songs verursachen könnte, hat KBS dies überhaupt nicht getan (und sofort abgelehnt).
———————————————————–
KBS has added another song into their banned list.
According to KBS on August 6th, JYJ's "Back Seat" from their 2nd album is deemed inappropriate for broadcast due to sexually suggestive lyrics. In particular, there is a part in the lyrics says,"Put you on my back seat" which is said to remind of an affair scene between a man and a woman.
C-Jes Entertainment responded to this problem by saying that the song was approved by both MBC and SBS, and while they are still considering about modifying the lyrics, if it causes any damage to the original content of the song, they won't do it at all.
Credit: dkpopnews
German trans by: Xiah Shining Star Germany
Shared by: WBC + Xiah Shining Star Germany
JYJ's kostenloses Fan Service Event "JYJ Membership Week 2014″ hat seine Pforten geschlossen.
C-JeS Entertainment, JYJ's Agentur, äußerte am 4.August, "Die JYJ Membership Week 2014, welche vom 31.Juli bis zum 03.August in COEX statt fand, ist erfolgreich zu Ende gegangen. Insgesamt 18.000 Fans in- und außerhalb von Korea war es möglich, wertvolle Erinnerungen durch diese Membership Week zu machen."
————————————————
JYJ's free fan service event 2014 JYJ Membership Week has closed its curtains.
C-JeS Entertainment, JYJ's agency, stated on August 4, "2014 JYJ Membership Week, which took place between July 31 and August 3 in COEX has successfully ended. A total of 18,000 fans from in and out of Korea were able to make precious memories through the membership week."
Die Ausstellung beinhaltete einen "JYJ Club", welcher einen Mix aus JYJ's Hits präsentierte und ein Video der Mitglieder zeigte, während sie sich als DJ übten, außerdem konnte man das Set des Musikvideos zu "Back Seat" erkunden und eine Garderobe mit über 600 Outfits, welche JYJ bei vorherigen Konzerten und Auftritten getragen haben und vieles mehr.
Das Event zeigte ebenfalls ein Bücher-Café, in dem die Fans Eis genießen konnten, während sie durch JYJ's Magazine blätterten. Außerdem gab es das "JYJ Theatre", welches die derzeitigen Aktivitäten der einzelnen Mitglieder zeigte, sowie Behind-the-scenes-Clips. Oben drauf gab es noch den Sticker-Photoshop, wo Fans Stickerbilder mit Fotos der Mitglieder als Hintergrund machen konnten.
Ein Partner äußerte: "JYJ's Membership Week, welche jedes Jahr ausgeführt wird um mit den Fans zu kommunizieren, erlaubte in diesem Jahr eine engere Interaktion und ihre Zufriedenheit war sehr groß. Die Membership Week feiert bereits ihr 3-jähriges. Wir werden weiterhin hart arbeiten um Möglichkeiten zu erschaffen, damit die Fans mit JYJ interagieren können."
————————————————
The exhibition included 'JYJ club,' which presented a mix of JYJ's hit songs and displayed a video of the members DJing, the music video set for the title song Back Seat, the dress room that displayed over 600 outfits that JYJ wore for previous concerts and performances and more.
The event also featured a book café where the fans could enjoy looking through JYJ's magazines while enjoying ice cream, the 'JYJ theatre' which displayed the members' recent activities and behind the scene clips and the sticker photo shop, where the fans could take sticker pictures with the members' photos in the background.
An affiliate stated, "JYJ's membership week, which has been carried out each year to communicate with the fans, allowed a closer fan interaction this year and their satisfaction was very high. The membership week has already held its third annual event. We will continue to work hard to make opportunities for the fans to interact with JYJ."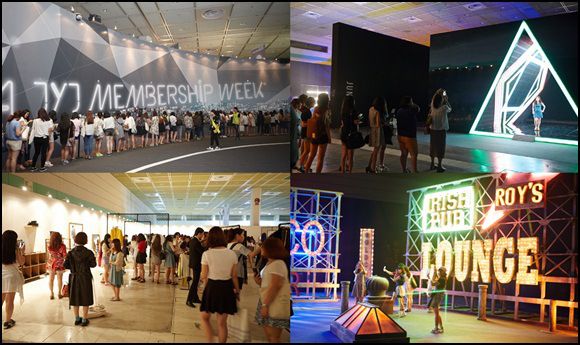 Read the rest of this entry »
JYJ kommen mit einem großen Knall zurück.
C-JeS Entertainment teilte folgendes mit: 'JYJs Werbung begann am 21.07.2014 im TV zu laufen. Es wurde festgelegt, dass diese Werbung zu den 'goldenen Stunden' auf allen Hauptsendern ausgestralt wird und wir haben 1 Billionen Won (~725.000 €) investiert, damit diese Werbung in den nächsten drei Wochen weiterhin um diese Zeit läuft so wie die Werbung von anderen führenden Firmen. Fans haben sehr positiv reagiert seit die Werbung angelaufen ist.'
Das Produktionsteam der Werbung sagte: 'Die Mitglieder von JYJ haben in den letzten 4 Jahren individuelle Projekte gehabt und sind durch Dramen, Filmen, Musicals und Solo Alben an die Spitze ihrer Karriere geklettert. Wir wollten ihre Leidenschaft und Individualität zeigen genauso wie ihr perfektes Zusammenspiel wenn sie gemeinsam arbeiten.'
——————————————————-
JYJ is returning with a bang.
C-JeS Entertainment announced, "JYJ's brand commercial began airing on July 21. This commercial has been scheduled to air during the 'golden hours' on each of the major channels and we have invested 1 billion won for it to be aired for the next three weeks with the same frequency as the other major companies' commercials. Fans have been responding enthusiastically since the commercial began airing."
The commercial production team stated, "The JYJ members have carried out individual activities in the last four years, climbing to the top in their careers through dramas, movies, musicals and solo albums. We wanted to express their passion and individuality as well as the synergy effect that they show when they're together."
Read the rest of this entry »
JYJ arbeiteten gemeinsam mit Chris Brown für ihr kommendes Album
C-JeS Entertainment sagte: 'JYJs zweites volles Album Just Us, welches am 29.07.2014 erscheinen wird, beinhaltet den Song Valentine, welcher von Chris Brown geschrieben wurde. Der Song, welcher letztes Jahr im Sommer in L.A. aufgenommen wurde, hat einen eingängigen Sound und sexy Lyrics was den Charme von JYJs Stimmen maximiert.'
——————————————————-
JYJ collaborated with Chris Brown in its upcoming album.
C-JeS Entertainment announced, "JYJ's second full length album Just Us set to be released on July 29 will contain a song written by Chris Brown titled Valentine. The song, which was recorded last summer in a studio in LA, has a catchy loop and sexy lyrics, maximizing the vocal charms of JYJ."
Valentine, welcher mit Chris Brown und dem Grammy nominierten Producer Lonny Bereal produziert wurde, harmoniert mit den Stimmen von JYJ und einer eingängigen Melodie. 
Lonny Bereal sagte: 'Das Ergebnis ist so gut, dass ich mich frage ob je jemand anderes als JYJ diesen Song singen können.'
JYJs Album wird am 29.07.2014 erscheinen.
——————————————————-
Valentine, which was co-produced by Chris Brown and Grammy nomination producer Lonny Bereal, harmonizes the JYJ members' voices along with a catchy melody.
Lonny Bereal said, "The result came out so great, to the point where I wonder if any singer other than JYJ could pull of this song."
Meanwhile, JYJ's new album will be released online and offline on July 29.
Photo credit: C-JeS Entertainment
Credit: Mwave
German Translation: Xiah Shining Star Germany
Shared by: WBC + Xiah Shining Star Germany