You are currently browsing the tag archive for the 'news' tag.
JYJ kommen mit einem großen Knall zurück.
C-JeS Entertainment teilte folgendes mit: 'JYJs Werbung begann am 21.07.2014 im TV zu laufen. Es wurde festgelegt, dass diese Werbung zu den 'goldenen Stunden' auf allen Hauptsendern ausgestralt wird und wir haben 1 Billionen Won (~725.000 €) investiert, damit diese Werbung in den nächsten drei Wochen weiterhin um diese Zeit läuft so wie die Werbung von anderen führenden Firmen. Fans haben sehr positiv reagiert seit die Werbung angelaufen ist.'
Das Produktionsteam der Werbung sagte: 'Die Mitglieder von JYJ haben in den letzten 4 Jahren individuelle Projekte gehabt und sind durch Dramen, Filmen, Musicals und Solo Alben an die Spitze ihrer Karriere geklettert. Wir wollten ihre Leidenschaft und Individualität zeigen genauso wie ihr perfektes Zusammenspiel wenn sie gemeinsam arbeiten.'
——————————————————-
JYJ is returning with a bang.
C-JeS Entertainment announced, "JYJ's brand commercial began airing on July 21. This commercial has been scheduled to air during the 'golden hours' on each of the major channels and we have invested 1 billion won for it to be aired for the next three weeks with the same frequency as the other major companies' commercials. Fans have been responding enthusiastically since the commercial began airing."
The commercial production team stated, "The JYJ members have carried out individual activities in the last four years, climbing to the top in their careers through dramas, movies, musicals and solo albums. We wanted to express their passion and individuality as well as the synergy effect that they show when they're together."
Read the rest of this entry »
JYJ arbeiteten gemeinsam mit Chris Brown für ihr kommendes Album
C-JeS Entertainment sagte: 'JYJs zweites volles Album Just Us, welches am 29.07.2014 erscheinen wird, beinhaltet den Song Valentine, welcher von Chris Brown geschrieben wurde. Der Song, welcher letztes Jahr im Sommer in L.A. aufgenommen wurde, hat einen eingängigen Sound und sexy Lyrics was den Charme von JYJs Stimmen maximiert.'
——————————————————-
JYJ collaborated with Chris Brown in its upcoming album.
C-JeS Entertainment announced, "JYJ's second full length album Just Us set to be released on July 29 will contain a song written by Chris Brown titled Valentine. The song, which was recorded last summer in a studio in LA, has a catchy loop and sexy lyrics, maximizing the vocal charms of JYJ."
Valentine, welcher mit Chris Brown und dem Grammy nominierten Producer Lonny Bereal produziert wurde, harmoniert mit den Stimmen von JYJ und einer eingängigen Melodie. 
Lonny Bereal sagte: 'Das Ergebnis ist so gut, dass ich mich frage ob je jemand anderes als JYJ diesen Song singen können.'
JYJs Album wird am 29.07.2014 erscheinen.
——————————————————-
Valentine, which was co-produced by Chris Brown and Grammy nomination producer Lonny Bereal, harmonizes the JYJ members' voices along with a catchy melody.
Lonny Bereal said, "The result came out so great, to the point where I wonder if any singer other than JYJ could pull of this song."
Meanwhile, JYJ's new album will be released online and offline on July 29.
Photo credit: C-JeS Entertainment
Credit: Mwave
German Translation: Xiah Shining Star Germany
Shared by: WBC + Xiah Shining Star Germany
JYJs Kim Junsu liebt die Musik sehr!
"Seit ich ein Kind war, war Musik immer in meinem Leben und ist das einzige was ich kenne und kann.", sagte er in einem Interview mit Grammy. Dem Sänger, der perfekt Klavier spielen kann, liegt die Musik im Blut und wurde ein großer Teil seines Lebens. So wichtig ist ihm die Musik! "Bevor ich Sänger wurde, war das hören von Musik und Singen der wichtigste Teil in meinem Leben. Ich will nicht übertreiben aber ich bin Musik.", fuhr er fort.
Momentan steht Junsu für das Musical 'Dracula' auf der Bühne und vergleicht Musik mit einem alten Freund. "Musik ist wie ein alter Freund von etwas wodurch ich mich am besten ausdrücken kann. Es ist immer bei mir und wir werden für den Rest meines Lebens zusammen sein.", sagte der Darsteller von 'Graf Dracula'.
Zusätzlich sind JYJ gerade dabei ihr zweites Album "Just Us" zu vermarkten, welches am 29.07.2014 erscheinen wird.
——————————————————-
JYJ's Junsu really loves music!
"Since I was a child, music has always been in I my life and the only thing that I know and can do," he said at an interview with Grammy. For the singer who is an expert in playing piano, music is already in his blood and becomes a big part in his life. That is how important music is for him! "In fact before I became a singer, listening to music and singing are the biggest parts in my life. I did not mean to exaggerate but music is me," he continued.
Junsu who is currently performing in musical "Dracula" likened music as his old friend. "Music is like my old friend of something that is the best way to express myself. It has always been with me and we will be together for the rest of my life," said the actor of "Count Dracula".
Meanwhile, Junsu and JYJ are set to release their second album "Just Us" on July 29.
Credit: ttwigo
German trans by: Xiah Shining Star Germany
Shared by: WBC + Xiah Shining Star Germany
JYJ haben das Datum ihres Comeback's bestätigt.
Laut C-JeS Entertainment, soll JYJ's zweites Album "JUST US" am 29.Juli veröffentlicht werden.
C-JeS Entertainment kündigte an: "JYJ werden ihr zweites Album am 29.Juli veröffentlichen und mit den Promotions beginnen, angefangen mit einem Showcase un einer Asien Tour. JYJ's neues Album wird Songs enthalten, die von den Membern selbst geschrieben wurden, welche die aus einer Zusammenarbeit mit anderen Songwritern entstanden sind, sowie englische Songs, die sie in einem Studio in Amerika aufgenommen haben. Insgesamt werden es 13 Tracks sein."
JYJ's Teaser Fotos und die Aufnahmen für die Aufmachung wurden auf JYJ's offizieller Facebookseite veröffentlicht.
——————————————————
JYJ has confirmed its comeback date.
According to C-JeS Entertainment on July 17, JYJ's second full length album Just Us will be released on July 29.
C-JeS Entertainment announced, "JYJ will be releasing the second full length album on July 29 and begin promotions, starting with a showcase and an Asia tour. JYJ's new album contains songs written by the members themselves, working with other songwriters as well as the English songs they recorded in a studio in America, with a total of 13 tracks."
JYJ's teaser photos and the shots from the jacket filming site have been released on JYJ's official Facebook.
Read the rest of this entry »
Ticketpreise:
Pink: 1680 HKD ~ 159 €
Hellblau: 1680 HKD ~ 159 € (Stehplatz)
Gelb: 1480 HKD ~ 140 €
Lila: 1280 HKD ~ 121 €
Grün: 980 HKD ~ 93 €
Beige: 680 HKD ~ 64 €
Braun: 1280 HKD ~ 121 € (Rollstuhl)
Ticket Prices:
Pink: 1680 HKD ~ 216 $
Light blue: 1680 HKD ~ 216 $ (Standing)
Yellow: 1480 HKD ~ 190 $
Purple: 1280 HKD ~ 165 $
Green: 980 HKD ~ 126 $
Beige: 680 HKD ~ 87 $
Brown: 1280 HKD ~ 165 $ (Wheelchair)
Veranstaltungsort / Venue: Asia World-Expo / Arena
Datum / Date: 16.August 2014, 20:15 Uhr CST // August 16, 2014, 8:15 pm CST
Credit: 大麦网香港站 + HANCHASA寻韩者
Shared By: JYJ3 + Xiah Shining Star Germany
* Malaysia, Shanghai und Thailand Bangkok sind noch in der Klärung und werden Anfang August 2014 bekannt gegeben.
Source: C-Jes
Translated by: @shinkipeia
Shared by: WBC + Xiah Shining Star Germany
JYJ sind bereit für ihre Comeback, welches für diesen Sommer geplant ist. Was noch interessanter ist, ist der Start der jährlichen JYJ Membership Week im August. Es wird für das Trio bereits das dritte Mal sein, dass sie ein solches Event veranstalten und C-JeS Entertainment versprach bereits, dass es noch größer und vielfältiger ausfallen wird.
Die "JYJ Membership Week 2014″ in diesem Jahr wird im COEX World Trade Center im Stadtteil Gangnam von Seoul statt finden und wird, laut der offiziellen Ankündigung auf JYJ's offizieller Webseite, die gesamte C & D-Halle einnehmen.
Der vorbereitete Veranstaltungsort wird den Besuchern alle JYJ-bezogenen Inhalte zeigen. Es wird außerdem ein Fanmeeting, für das sich die Fans bewerben können, geben. Während dieses Fanmeetings, können die Fans persönlich die ersten neuen Songs von JYJ hören.
Während des ersten Events im Jahr 2012, wurde berichtet, dass 22.000 Fans teil genommen hatten, darunter etwa 7.024 japanische Fans, welche extra angereist waren um die Membership Week zu besuchen. 2013 waren es rund 17.000 Besucher im SETEC, im Süden von Seoul.
JYJ bereiten sich derzeit auf ihr Comeback mit einem neuen Album für diesen Sommer vor. Sie planen außerdem, eine Asientour nach der Veröffentlichung ihres neuen Albums zu starten. Das erste Konzert wird im August im Jamsil Stadion in Seoul mit insgesamt 40.000 erwarteten Fans statt finden.
———————————————
JYJ are ready to make their comeback plan this summer even more interesting as they are going to kick off the the annual JYJ Membership Week in August. It will be the third time for the trio to hold such event and C-JeS Entertainment promised the event will be bigger and fancier.
The "2014 JYJ Membership Week" this year will be held at COEX World Trade Center in Gangnam, Seoul, taking all of C & D Halls, according to the official announcement made by the agency on JYJ's official website yesterday.
The prepared venue will show the visitors all JYJ-related contents. There will also be a fan meeting, which fans have to apply for. In the fan meeting, fan can personally hear the first to-be-relased JYJ's new songs.
In the first event in 2012, it was reported a total of 22,000 fans participated in the event, including around 7,024 Japanese fans that came just to attend the Membership Week. In 2013, the event successfully attracted around 17,000 participants to SETEC in southern Seoul.
Meanwhile, JYJ are preparing for their comeback with a new album this summer. They also plan to kick off an Asia Tour after the release of the new album. The concert will be held at Jamsil Stadium in Seoul on August 9 and a total of 40,000 fans are expected to attend the show.
Credit: ttwigo
German trans by: Xiah Shining Star Germany
Shared by: WBC + Xiah Shining Star Germany
Es sieht aus, als seien JYJ in eine weitere Kontroverse in ihrem Heimatland verwickelt worden.
Am gestrigen Tag wurde berichtet, dass die Gruppe bei dem Event zur Gratulation für die "Incheon Asian Games 2014″ auftreten würde. Dies wurde zu einem großen Thema für das Trio, da sie nicht zur Pressekonferenz des Events eingeladen worden waren, bei der unter Anderem verkündet wurde, welche Künstler bei der Eröffnung- und Abschlussveranstaltung auftreten werden, obwohl sie als offizielle, ehrenamtliche Botschafter der Spiele gelten.
Die Details wurden bei der Pressekonferenz der "Incheon Asian Games 2014″ im Grand Ballroom des Millenium Seoul Hilton Hotels offenbart.
C-JeS Entertainment, JYJ's Agentur, veröffentlichte ein offizielles Statement zu dieser Angelegenheit, welche ihre Unzufriedenheit über diese unfaire Behandlung die sie vom Komitee erhielten, ausdrückt. Die Agentur sagte, dass JYJ sehr hart dafür gearbeitet hatten, um ihre Pflichten als Botschafter zu erfüllen, in dem sie alle werbenden Aktivitäten, welche das Singen des Theme Songs für das Event und das Mitwirken in ausländischen Promotionen seit vergangenen Jahres beinhaltet, absolviert hatten.
Die Agentur erwähnte außerdem, dass das Organisationskomitee, JYJ versprochen hatte, dass sie bei der Abschlussveranstaltung auftreten werden, plus eine mögliche Zusammenarbeit mit Psy. Dennoch wurde kein Kontakt seither hergestellt.
Dann plötzlich, wurde der Name der Gruppe während der Verkündung der Haupt-Künstler für auch nur irgendeines der Events, nicht einmal erwähnt, lediglich wurde angemerkt dass sie beim Gratulationsempfang auftreten würden, welche bereits vor der Eröffnung statt finden würde.
Am Ende des Statements, beurteilte C-JeS Entertainment die Sache als Vertragsbruch und rief zur Unterstützung auf. Es sind nicht nur JYJ welche darunter leiden, sondern auch lokale und internationale Fans, welche die Gruppe unterstützen. Read the rest of this entry »
Übersetzung:
Ticket Vorverkauf Ab dem 02.Juli 2014; 20 Uhr KST!!
Hi. Hier ist Interpark Ticket.
Informationen zu den Tickets für das JYJ Concert in Seoul "The Return Of The King" 2014
Performance Informationen
- Datum: 09.August (Sa) 20 Uhr KST
- Ort: Seoul Sports Complex Stadium
- Ticketpreise: VIP 132.000 Won [~95 €] / R Kategorie 121.000 Won [~87 €] / S Kategorie 110.000 Won [~79 €] / A Kategorie 99.000 Won [~71 €] / B Kategorie 77.000 Won [~55 €] / Nicht reservierte Plätze 55.000 Won [~39 €]
——————————————————–
Translation:
Ticketing on July 2, 2014 8 pm KST!!
Hi. This is Interpark ticket.
2014 JYJ Concert In Seoul 'THE RETURN OF THE KING' Ticket Open guide
Performance Information
- Performance Date: August 9 (Sat) 8 pm KST
- Venue: Seoul Sports Complex Stadium
- Ticket Prices: VIP seating 132,000 wons / standing VIP seating 132,000 wons / R seating 121,000 wons / S seating 110,000 wons / A seating 99,000 wons / B seating 77,000 wons / Non-reserved seating 55,000 wons
Source: Interpark 
German trans by: Xiah Shining Star Germany
Translated & Shared by: JYJ3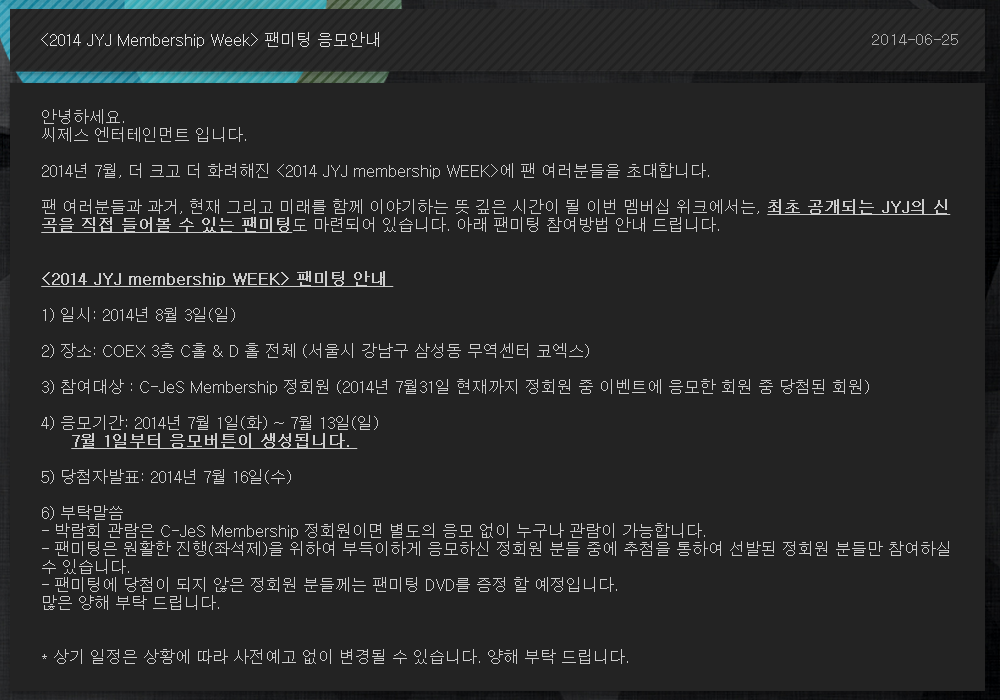 Übersetzung:
Im Juli 2014 laden wir alle Fans zur größeren und ausgefalleneren "2014 JYJ MEMBERSHIP WEEK" ein!
Diese Membership Week wird zu einer bedeutungsvollen Zeit werden, die mit euch allen verbracht wird, in dem über die Vergangenheit, die Gegenwart und Zukunft [von JYJ] gesprochen wird; selbst das Fanmeeting, wo ihr persönlich die ersten neuen Songs von JYJ hören könnt, ist in greifbarer Nähe.
<2014 JYJ MEMBERSHIP WEEK> Fanmeeting Information
1) Datum: 3.August 2014 (So)
2) Veranstaltungsort: Beide C & D-Hallen von COEX, der 3.Stock (COEX's World Trade Center in Samsung-dong, Gangnam-gu, Seoul)
3) Teilnehmer: Reguläre Mitglieder der C-JeS Membership (Mitglieder die unter den regulären Mitgliedern gewonnen haben und Mitglieder, die beim Event bis zum 31.Juli 2014 mit machen)
4) Bewerbungsphase: 1.Juli 2014 (Di) ~ 13.Juli (So)
Der Button zur Bewerbung wird ab dem 1.Juli verfügbar sein.
5) Gewinnerbekanntgabe: 16.Juli 2014 (Mi) Read the rest of this entry »