You are currently browsing the tag archive for the 'news' tag.
C-JeS Entertainment hat die Details über den kürzlichen Boykott der taiwanischen Presse gegen JYJ erklärt.
Am 12.09.2014 meldete eine News-Seite, indem es lokale Nachrichten zitierte, dass am 11.09.2014 die Presse JYJs Pressekonferenz in Taipei in Taiwan boykottiert hat.
Während eines Telefongesprächs mit Newsen am 12.09.2014 sagte C-JeS Entertainment: 'Es ist wahr, dass es einen Vorfall bezüglich eines voreiligen Statements seitens des taiwanischen MCs, welcher vom lokalen Veranstalter engagiert worden wahr. Nichts desto trotz wurde das Problem gelöst und alles ist gut ausgegangen.'
———————————————–
C-JeS Entertainment explained the details concerning the recent Taiwanese press boycott on JYJ.
On September 12, one news outlet stated, citing a local news platform, that on September 11, the press boycotted JYJ′s press conference in Taipei, Taiwan.
During a phone call with Newsen on September 12, C-JeS Entertainment stated, "It is true that there was an issue with a hasty statement made by the Taiwanese emcee hired by the local promoter. However, the issue has been smoothly resolved and and wrapped up well."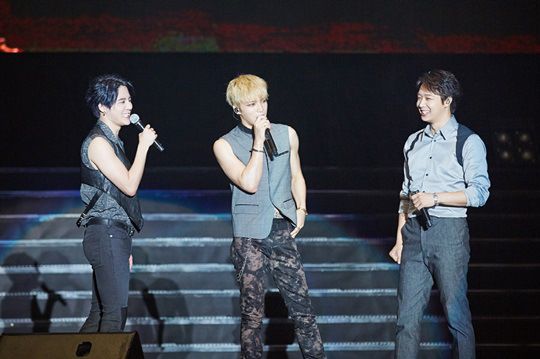 Laut der Agentur äußerte der MC während der Q&A Time mit JYJ: 'Bitte machen Sie während des Interviews keine Fotos, da der Blitz zu hell ist und JYJs Augen verletzt.' Etwa 6 bis 7 Fotografen haben den Raum verlassen und boykottierten das Event indem sie sagten, dass sie so nicht arbeiten könnten.
Der MC entschuldigte sich für das voreilige Kommentar und bat die Fotografen mit dem fotografieren weiter zu machen, was laut dem Sprecher der Agentur, reibungslos ablief. Der Sprecher verriet, dass der Bericht darüber, dass etwa 50 Reporter die Pressekonferenz boykottierten, falsch sei.
JYJ haben ihre Asientour in Taipei im World Trade Center am 11.09.2014 fortgesetzt.
———————————————–
According to the agency, during the Q&A time with JYJ, the emcee stated, "Please don′t take pictures during the interview since the flash is too bright and hurts [JYJ′s] eyes." About 6 to 7 photographers left the room, boycotting the event and saying they cannot work like this.
However, the emcee apologized for making a hasty comment and asked the photographers to continue with the photo time, and the photo time took place smoothly according to the agency rep. The rep also revealed that the report that stated around 50 reporters boycotted the press conference was false.
Meanwhile, JYJ continued its Asia tour in Taiwan at the Taipei world Trade Center on September 11.
Photo Credit: C-JeS Entertainment
Credit: mwave
German Translation: Xiah Shining Star Germany
Shared by: WBC + Xiah Shining Star Germany
JYJ werden bei der Eröffnungszeremonie am 19.09.2014 (Freitag) um 21:44 Uhr (koreanischer Zeit) auftreten.
————————————————-
JYJ performance schedule: 2014.09.19 (Fri) 9:44pm KST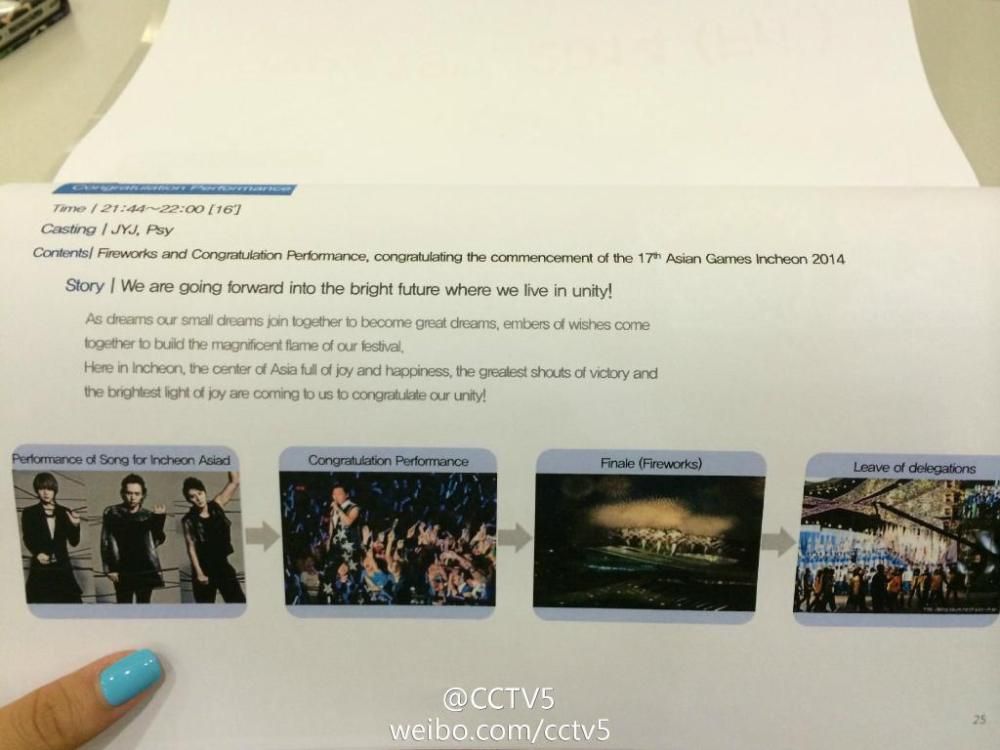 Credit: As Tagged & @shinkipeia
Shared by: WBC + Xiah Shining Star Germany

JYJ werden am 05.10.2014 beim Gangnam Festival im Yeongdong-daero COEX um 19:00 Uhr auftreten
———————————————————
On October 5th 2014 JYJ will perform at Gangnam Festival in Yeongdong-daero COEX at 7:00 PM.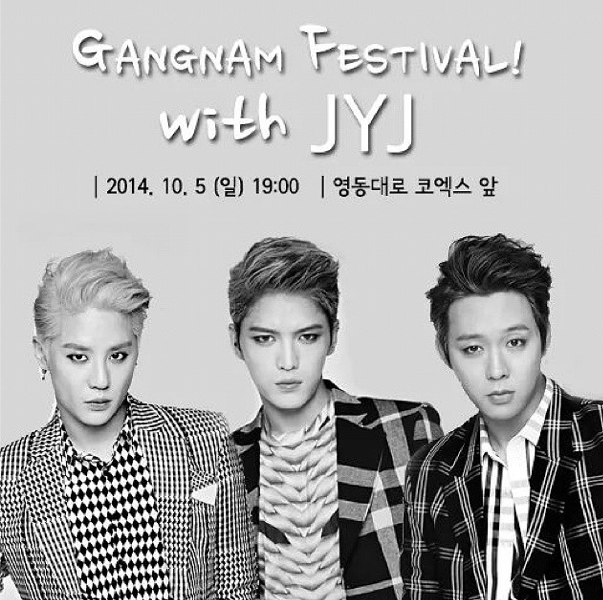 Source: gangnam_korea
Shared by: WBC + Xiah Shining Star Germany
JYJ haben ihr allererstes Konzert in Chengdu mit Bravour vollendet.
Die Gruppe performte vor mehr als 9.000 Fans, welche am 6.September ins Chengdu Sports Center Stadium kamen. Im Gepäck hatten JYJ Songs auf ihrem neusten Album "Just Us", darunter "Creation", "Let Me See", "Letting Go" und den Titelsong "Back Seat", sowie weitere Songs aus ihrem vorherigen Album. [Anm.: Ich nehme an dass der Original-Artikel falsch übersetzt wurde, da die Auflistung etwas durcheinander ist. Ich habe versucht etwas Ordnung rein zu bringen, daher weicht meine Übersetzung vom Englischen ab!]
Sie erhielten großartiges Feedback vom Publikum, welches nicht nur der Performance der Gruppe galt, sondern auch einigen Solo-Auftritten. Die Mitglieder dankten den Fans für den warmen Empfang, da dies ihr erstes Konzert in Chengdu war.
Da es ein Open-Air-Event war, sagen JaeJoong, Yoochun und Junsu in ihren ärmellosen Shirts sehr zufrieden aus.
JYJ werden ihre Tour in Taiwan, Shanghai und Thailand fort setzen.
——————————————————
JYJ has completed their first ever concert in Chengdu on a high note.
The group performed in front of more than 9,000 fans, which came to Chengdu Sports Center Stadium on September 6, and brought songs taken from their latest album, "Just Us", along with some songs taken from their previous release that included "Creation," "Let Me See," Letting Go," "Valentine," and the title track of their second album, "Back Seat."
They received hot responses from the audience not only for the group's performances, but also the various solo stages. The members also greeted fans in gratitude for the warm welcome they received for their first ever stage in Chengdu.
Since it was an outdoor event, Jejoong, Yoochun and Junsu looked very much comfortable in sleeveless shirts.
JYJ will continue their tour to Taiwan, Shanghai and Thailand.
Credit: ttwigo
German trans by: Xiah Shining Star Germany
Shared by: WBC + Xiah Shining Star Germany
JYJ werden beim jährlichen Gangnam Hallyu Festival in diesem Jahr ein Solo-Konzert geben. Das Event wird auf der Yeungdong Street in Stadtteil Gangnam in Seoul am 5.Oktober statt finden.
Die Ankündigung dazu wurde in der Früh, seitens der offiziellen Webseite von C-JeS Entertainment gemacht. Das Hallyu Festival ist ein Teil des Gangnam Festival, welches außerdem aus einem großen Ausverkauf in Gangnam, einem internationalen Friedens-Marathon und einem Fashion Festival besteht. Im Jahr 2007 wurde das Ganze als Fashion-Festival gestartet.
Das K-Pop Konzert lädt normalerweise eine Anzahl von Künstlern ein um dort auf zu treten. Top-Gruppen wie Super Junior und Girl's Generation, EXO und SHINee haben in den vergangenen Jahren dort performt. Allerdings wird es dieses Jahr so sein, dass JYJ die einzigen sind, die auftreten.
JYJ machen sich derzeit bereit, an diesem Wochenende die Stadt Chengdu zu rocken und ihre "The Return of The King" Asientour fort zu setzen. Nach Chengdu, wird die Gruppe weiter nach Taiwan, Shanghai und Thailand reisen.
———————————————-
JYJ is going to hold a solo concert at the annual Gangnam Hallyu Festival this year. The event will be held on Yeungdong Street in Gangnam on October 5.
The announcement was made earlier today on the official website of C-JeS Entertainment. The Hallyu Festival is a part of Gangnam Festival, which also consist Gangnam Grand Sale, International Peace Marathon and Fashion Festival. It was started back in 2007 as a fashion festival.
The K-Pop concert usually invites a number of artists to perform. Top groups like Super Junior and Girls' Generation, EXO and SHINee have performed in the past years. However, JYJ will be the only artist to perform this year.
Meanwhile, JYJ is ready to rock Chengdu this weekend to continue "The Return of The King" Asia tour. After Chengdu, the group will continue their tour to Taiwan, Shanghai and Thailand.
Credit: ttwigo
German trans by: Xiah Shining Star Germany
Shared by: WBC + Xiah Shining Star Germany
Traurige Nachrichten überfluten Facebook und Twitter, so wie alle Haupt-Newsseiten in Korea. Die Girlgroup "Ladies Code" war laut der unzähligen Berichte in der vergangenen Nacht zum 3.September auf dem Rückweg nach Seoul von ihrem Auftritt in Daegu. Doch gegen 1:20 Uhr morgens geriet der Van der Gruppe ins rutschen, da heftiger Regen die Straße unbefahrbar machte und der Van schließlich gegen eine Mauer prallte. 
EunB, gerade einmal 22 Jahre jung starb noch an der Unfallstelle, während zwei weitere der 5 Mitglieder, Sojung und Rise mit lebensgefährlichen Verletzungen direkt ins Krankenhaus gebracht wurden. Die anderen beiden erlitten nur leichte Verletzungen.
Wir sind tief getroffen und drücken EunBs Familie, Fans, Freunden und Teammitgliedern unser Beileid und Mitgefühl aus. Außerdem hoffen wir auf eine schnelle Genesung der anderen Mitglieder.
XSSG-Team
———————————————————————–
Shocking and sad news are flooding Facebook, Twitter and all major news sites in Korea. According to numerous articles, the girl group "Ladies Code" was last night on their back trip to Seoul, after they finished their performance in Daegu. But around 1:20 a.m., their van suddenly slipped because of heavy rain that poured down on the streets and the van then clashed into a wall.
Member EunB, who was only 22 years old, passed away even before an help reached her, while two of the five members, Sojung and Rise suffered life-threatening injuries and were rushed to the hospital right away. The two others survived with minor injuries. 
We are deeply shocked and would like to send our condolences to EunB's family, fans, friends and bandmembers. Also we hope that the other members will recover quickly from their injuries.
XSSG-Team
Source: SBS
Während ihres letzten Konzerts in Vietnam, haben JYJ ihre Professionalität bewiesen. Die Gruppe performte erfolgreich vor 6.000 vietnamesischen Fans und gaben, trotz des Starkregens, sogar eine Zugabe.
Laut C-JeS Entertainment, fand das "The Return of The King" Konzert in einem Outdoor Stadion, am 30.August statt, wo JYJ und ihre Fans eine unvergessliche Nacht verbrachten. Fans, welche durch das ganze Land gereist waren, sangen die Songs auf koreanisch mit und genossen das Konzert, obwohl sie gegen Ende des Konzerts vom Regen durchnässt wurden.
Das Trio performte 24 Songs live auf der Bühne, inklusive Songs aus ihrem ersten Album "The Beginning" und ihrem zweiten Album "Just Us". Sie brachten eine Vielzahl von Genres in ihre Performances, von Pop und Rock, über Dance und R&B, sowie großartige Solo-Performances von jedem Mitglied.
Noch vor dem Konzert zeigten sie ihre Liebe für ihre Fans, als sie während des Soundchecks, traditionelle Hüte des Landes trugen und die Fotos später auf ihren Social Media-Profilen hoch luden, was die Fans noch nervöser machte. JaeJoong, Yoochun und Junsu sagten, dass sie durch den Regen noch begeisterter waren und sie die Zeit mit den vietnamesischen Fans niemals vergessen werden.
Nach Vietnam werden sie ihre Asientour fort führen und am 6.September in Chengdu performen.
————————————————————-
JYJ has proved their professionalism in their latest concert in Vietnam. The group successfully performed in front of 6,000 Vietnamese fans and even brought a special encore stage despite a heavy rainfall.
According to C-JeS Entertainment, "The Return of The King" concert was held in an outdoor venue on August 30 in which JYJ and the fans spent an unforgettable night together. Fans who came from across the nation sang along to the songs in Korean and enjoyed the concert, although they were drenched in the rain at the end of the concert.
The trio performed 24 songs live on stage, including the songs taken from their first album "The Beginning" and their second album "Just Us". They brought a variety of genres in their performance, including pop, rock, dance, R&B, and splendid solo performances from each member.
Ahead of the performance, they also showed their affection to their fans by wearing traditional hats during the rehearsal and shared the picture on their SNS, which excited their fans as well. Jaejoong, Yoochun and Junsu said that they became more excited because of the rain and will never forget the time with Vietnamese fans.
After Vietnam, they will continue the Asia tour will perform in Chengdu on September 6.
Credit: ttwigo
German trans by: Xiah Shining Star Germany
Shared by: WBC + Xiah Shining Star Germany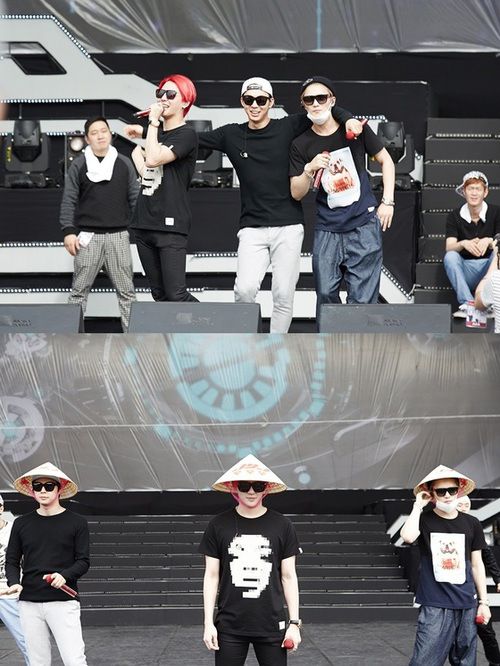 Sind alle vietnamesischen Fans von JYJ da draußen? JYJ haben von ihrem Rehearsal, für ihr Konzert in Vietnam, ein Bild geteilt wo sie die traditionellen vietnamesischen Hüte 'nón lá' tragen.
Während ihres Rehearsals trugen JYJ die traditionellen vietnamesischen Hütte 'nón lá'. Es ist bekannt, dass die Hütte, die JYJ trugen, ein Geschenk der vietnamesischen Fans war. Die vietnamesischen Fans waren tief berührt als sie die Fotos sahen die JYJ hochgeladen hatten.
Die Gruppe startete ihre Asia Tour für ihr zweites Album 'Just Us' am 09.08.2014 in Seoul. Danach folgten die Konzerte in Hong Kong und Peking und heute Abend stehen sie in Vietnam auf der Bühne. Das Konzert startet um 20:00 Uhr im Quan khu 7 in Ho Chi Minh.
Ihr Titelsong 'Back Seat' hat viele Online Charts angeführt und das Album wurde mehr als 120.000 Mal vorbestellt.
———————————-
Any Vietnamese JYJ fans out there? JYJ members have uploaded photos of themselves wearing Vietnamese traditional hats, or "nón lá," while they were rehearsing for their Vietnam concert.
During their rehearsal, JYJ members wore Vietnamese traditional hat known as nón lá. It is known that the hats they wore were made by their Vietnamese fans and given to JYJ members as gifts. Vietnamese fans were touched when they saw the photos that JYJ members uploaded on their SNS on August 30.
Group JYJ kick started their Asia Tour for their 2nd album "Just Us" on August 9 in Seoul. They have since then completed their concerts in Hong Kong and Beijing with Vietnam next on their list. JYJ will hold their concert in Vietnam at 8pm on August 30 at Quan khu 7 in Ho Chi Minh.
Meanwhile, the title song of JYJ's 2nd album "Back Seat" has topped many online charts, with more than 120,000 albums pre-ordered.
Source: Ten Asia , TV Daily
Credit: koreaboo
German Translation: Xiah Shining Star Germany
Shared by: WBC + Xiah Shining Star Germany
Übersetzung: JYJ, ehrenamtliche Botschafter der Incheon Asian Games, werden auf der Bühne der Eröffnungszeremonie der Incheon Asian Games stehen, welche am 19.September statt finden wird. Neben dem offiziellen Theme Song, werden JYJ noch einen Song performen. Wir erwarten euer gespanntes Interesse!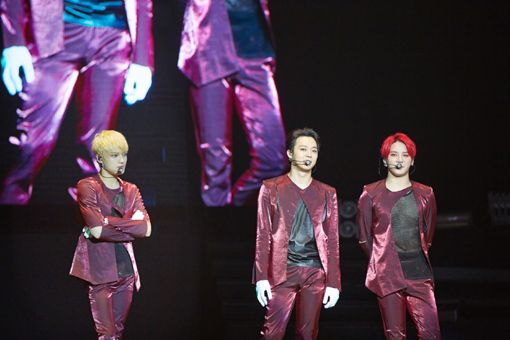 Source: sports.donga
Credit: JYJ Official
German trans by: Xiah Shining Star Germany
Shared by: WBC + Xiah Shining Star Germany
JYJ waren endlich in der Lage, ihre Fans durch ihr erstes Fansign Event seit drei Jahren, zu treffen. Dieses fand am 11.August in der IFC Mall im Stadtteil Yeoido in Seoul statt. JaeJoong, Yoochun und Junsu nahmen an dem Event teil und begrüßten ihre einheimischen und internationalen Fans, welche Glück hatten und an dem offenen Fansign Event teil nehmen konnten.
Alle drei Mitglieder von JYJ sahen, dafür dass es nur zwei Tage nach ihrem Konzert in Seoul statt gefunden hatte, sehr frisch in ihren alltäglichen Outfits aus.
[die Beschreibung der Klamotten wurde ausgelassen]
Direkt bevor das Event begann, bedankte sich JaeJoong bei allen Fans, die gekommen waren. Junsu fügte hinzu dass das offene Fansign Event eine wirklich schöne Atmosphäre abgab. Schließlich rief Yoochun die Fans dazu auf, während des gesamten Events vorsichtig zu sein und bat sie darum, gemeinsam eine schöne Erinnerung zu erschaffen.
JYJ's neustes Album "Just Us", welches am 29.Juli veröffentlicht wurde, konnte 120,000 vorbestellte Kopien verzeichnen und erhielt zudem einen Einstieg in die Musikcharts, der nicht zu stoppen war. Es konnte sogar Platz 2 der Oricon Weekly Charts ergattern.
JYJ haben kürzlich ihre Asientour 2014 mit einem Konzert in Seoul gestartet, welche unter dem Thema "The Return Of The King" am letzten Wochenende etwa 30.000 Fans im Stadion vereinte. Nach Seoul werden sie weiterhin in acht verschiedenen Städten, darunter Hong Kong, Japan, Vietnam und Shanghai, performen. Read the rest of this entry »