You are currently browsing the tag archive for the 'news' tag.
Der berühmte japanische Manga Death Note wird auf der Musical Bühne in Korea zum Leben erwachen.
Am 6.April enthüllte "Death Note" Das Musical, sein beeindruckendes Aufgebot an Stars für die koreanische Version.
Der Cast beinhaltet JYJ's Kim Junsu und Hong Kwang Ho, welche die Charaktere L und Light spielen werden, während Jung Seon Ah und Park Hye Na jeweils als Misa und Rem zu sehen sein werden. Der aufsteigende Musical Darsteller des Jahres 2015, Kang Hong Seok, wurde für Ryuk gecastet.
<3 <3 <3 <3 <3
The popular Japanese manga Death Note will be brought to life on the musical stage in Korea.
On April 6, Death Note the musical unveiled its impressive list of stars for the Korea rendition.
The cast includes JYJ′s Kim Junsu and Hong Kwang Ho, who will take on the characters, L and Light respectively, while Jung Seo Ah and Park Hye Na will each act as Misa and Rem. Rising musical actor of 2015, Kang Hong Seok has been cast as Ryuk.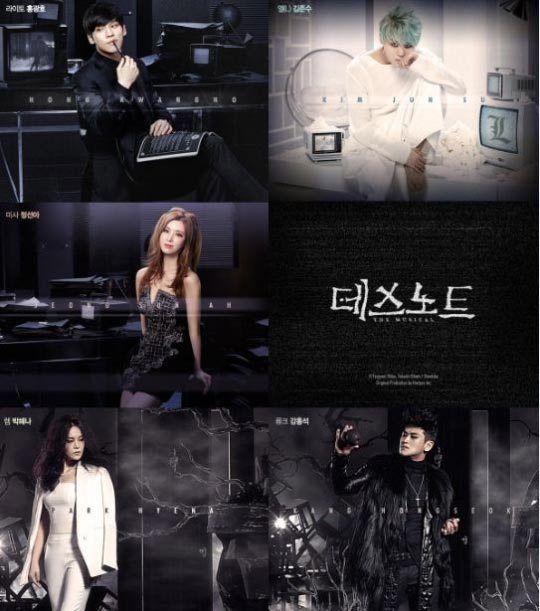 Read the rest of this entry »
JYJ's Kim Junsu hat erfolgreich sein erstes Konzert in Japan für sein drittes Solo Album beendet.
Kim Junsu's Agentur, C-JeS Entertainment, enthüllte: "Kim Junsu hat am 3.März seine "2015 XIA 3rd Asia Concert Tour 'FLOWER' " in der Osaka-Jo-Hall in Osaka gestartet und traf dabei über 10.000 Fans. Die Konzerte sollen planmäßig bis zum 5.März andauern und Tickets hierfür sind bereits ausverkauft. An drei Tagen wird er somit über 30.000 Fans treffen."
Die Tickets für Kim Junsu's Konzerte in Japan waren, sobald diese angekündigt wurden, ausverkauft und die Fans schickten eine Flut an Nachfragen für zusätzliche Tickets.
<3 <3 <3 <3 <3
JYJ's Kim Junsu successfully wrapped up the first concert for his third solo album in Japan.
C-JeS Entertainment, Kim Junsu's agency, revealed, "Kim Junsu launched 2015 Xia 3rd Asia Tour Concert 'Flower' on March 3 in Osaka-jo Hall in Osaka and met with over 10,000 fans. The concerts are scheduled to take place until March 5, and the tickets have already been sold out. He will be meeting with 30,000 fans over three days."
The tickets to Kim Junsu's Asia tour Japanese concert sold out as soon as it was announced and the fans have been sending a flood of inquiries for additional tickets.
Read the rest of this entry »
Das Poster für JYJ Kim Junsu's exklusives Konzert "Flower" ist enthüllt worden.
Am 12.Februar äußerte C-JeS Entertainment: "Kim Junsu hat nun das Poster für seine Konzerttour, welche im März in Osaka beginnt, veröffentlicht. Auf dem Foto zeigt Kim Junsu seinen maskulinen Charme, sowie sein Charisma."
<3 <3 <3 <3 <3
The poster for JYJ Kim Junsu′s exclusive concert, Flower, has been revealed.
On February 12, C-JeS Entertainment stated, "With the Asia Tour beginning in Osaka in March, Kim Junsu revealed the poster for his concert. In the photo, Kim Junsu showed his boyish charms as well as his masculine charisma."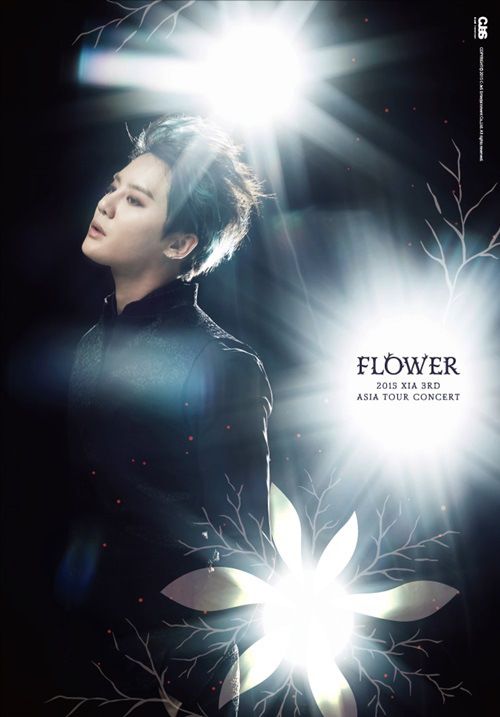 Ein Sprecher der Agentur kommentierte: "Der Titel des Albums ist "Flower", also haben wir ein Poster erschaffen, auf dem Kim Junsu mit einem Blitz aus der Dunkelheit heraus bricht, um sein Comeback nach langer Zeit zu symbolisieren. Es repräsentiert ebenfalls das Bild einer Blume. Genauso mystisch wie das Poster erscheint, so wird auch das Konzert voller Neuheiten und diversen Images sein."
Kim Junsu wird seine Konzerttour am 3.März in Osaka beginnen und anschließend weiter durch Seoul, Shanghai, Thailand, Tokyo, Fukuoka und Nagoya touren.
<3 <3 <3 <3 <3
The company rep stated, "The album′s title is Flower, and we created a poster showing Kim Junsu bursting with a flash in the darkness to symbolize his comeback after a long time. It also represents the flower image. As mystical as the poster appears, the concert will also be full of new and diverse images."
Kim Junsu will begin his concert tour in Osaka on March 3, continuing to Seoul, Shanghai, Thailand, Tokyo, Fukuoka and Nagoya.
Photo Credit: C-JeS Entertainment
Credit: mwave
German trans by: Xiah Shining Star Germany
Shared by: WBC + Xiah Shining Star Germany
JYJ's Junsu verrät den nächsten Künstler, mit dem er zusammen arbeitet und dies ist kein geringerer als Epik High's Tablo!
C-JeS Entertainment bestätigte am 17.Februar die Zusammenarbeit zwischen den beiden und äußerte: "Der Titelsong zu Junsu's dritten Studioalbum 'FLOWER' wird planmäßig am 3.März veröffentlicht werden und wurde mit dem Namen 'Flower' bestätigt. Während Kim Junsu die Lyrics schrieb, hat Epik High's Tablo bei der Komposition und den Rap Lyrics geholfen. Die beiden haben nun diesen fantastischen Track fertig gestellt, in dem Tablo zu hören sein wird."
Der Song wurde zudem als fesselnder Hip-Hop Track beschrieben, der "großartige Barock-Saiteninstrumente, sowie einen Chor" beinhaltet.
Tablo wurde zitiert, in dem er sagte wie wunderbar es war, mit Junsu bei einem Musik-Projekt zusammen zu arbeiten. Junsu fügte hinzu, dass er als großer Fan von Tablo's Musik, dachte dass der Rapper besser dafür geeignet wäre, die Message der Lyrics zu übermitteln, womit er seinen Dank an Tablo's Teilnahme teilte.
Zusätzlich zu der Teilnahme von Tablo im kommenden Album, wurde auch Dok2 kürzlich bestätigt, welcher an einem weiteren Song des JYJ Mitglieds beteiligt sein soll. Während Junsu die komplette Tracklist des kommenden Albums enthüllt hat, sind noch nicht alle beteiligten Künstler bestätigt worden, was die Neugier der Fans zusätzlich anheizt.
<3 <3 <3 <3 <3 
JYJ's Junsu unveils the next artist he will be collaborating with, and it is none other thanEpik High's Tablo!
C-JeS Entertainment confirmed the collaboration between the two on February 17th, saying, "The title track to Junsu's 3rd studio album FLOWER, set to be released on the 3rd next month, has been confirmed as 'Flower.'" Kim Junsu wrote the lyrics, while Epik High's Tablo has participated in the composition and rap lyrics. The two have completed this fantastic collaboration track, in which Tablo will feature in."
They continue to describe the track as a compelling hip-hop track that features "magnificent baroque strings and choir" 
Tablo was even quoted saying how enjoyable it was to have worked with Junsu on a music project. Junsu further added that as a big fan of Tablo's music, he had thought the rapper was better suited to express the lyrics' message, sharing his thanks for Tablo's participation.
In addition to the Epik High members' participation in the upcoming album, Dok2 was recently revealed to be collaborating on another track with the JYJ member as well. While Junsu has shared the full tracklist to his upcoming album, featured artists were not revealed and continues to raise question from anticipation fans.
Source: OSEN
Credit: koreaboo
German trans by: Xiah Shining Star Germany
Shared by: WBC + Xiah Shining Star Germany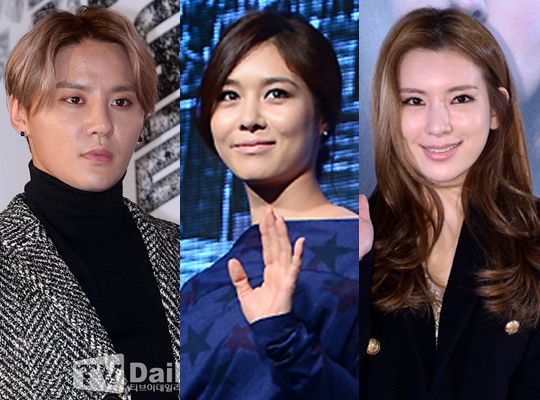 Kim Junsu sprach über seinen kürzlichen Gewinn bei den Golden Ticket Awards.
Am 19. hatte Play DB die Dankesreden von denjenigen veröffentlicht, die bei den 10.Golden Ticket Awards gewonnen hatten.
Kim Junsu, welcher beide Auszeichnungen in der Popularity- und Best Ticket Power-Musical Actor-Kategorie gewann, sagte: Ich habe den Best Musical Actor Award und den Popularity Award erhalten und jede Auszeichnung die ich erhalte, ist so bedeutungsvoll für mich. Ich verstehe die Bedeutung hinter dieser Auszeichnung die mir überreicht wurde. Ich werde weiterhin hart arbeiten und ein Musical Darsteller sein, der nicht enttäuscht."
Dies ist das vierte aufeinanderfolgende Jahr seit 2010, in dem Kim Junsu eine Trophäe bei den Golden Ticket Awards durch seine Musicals und Konzerte gewonnen hat. 
In der Kategorie für die Best Ticket Power-Musical Actress, wurden sowohl Ok Joo Hyun, als auch Jung Sun Ah ausgezeichnet.
(ausgelassen)
Die 10.Golden Ticket Awards sind eine Preisverleihung die die beliebtesten und besten Produktionen aus 2014 hervorgehoben hat. Die Preisverleihung feiert außerdem die Produktionen, Darsteller und Darstellerinnen die die größte Ticketpower der Branche besitzen.
<3 <3 <3 <3 <3 
Kim Junsu spoke up about his recent win at the Golden Ticket Awards.
On the 19th, Play DB released the acceptance speeches of those who won in the 10th Golden Ticket Awards.
Having won both awards in the popularity and best ticket power-musical actor categories, Kim Junsu said, "I received the best musical actor award and the popularity award, and every award I receive is so meaningful to me. I understand the meaning behind this award that was given to me. I will continue to work hard and be a musical actor who does not disappoint."
This is the fourth consecutive year since 2010 that Kim Junsu has won a trophy at the Golden Ticket Awards through his musicals and concerts.
For the best ticket power-musical actress category, Ok Joo Hyun and Jung Sun Ah were both awarded with the title.
(omitted)
The 10th Golden Ticket Awards is an awards ceremony that highlighted the most popular and well-received productions of 2014. The awards ceremony also celebrated the productions, actors and actresses who had the greatest ticket power in the industry.
Source: [TV Daily]
Eng trans by: dongbangdata.net
German trans by: Xiah Shining Star Germany
Shared by: dongbangdata.net + Xiah Shining Star Germany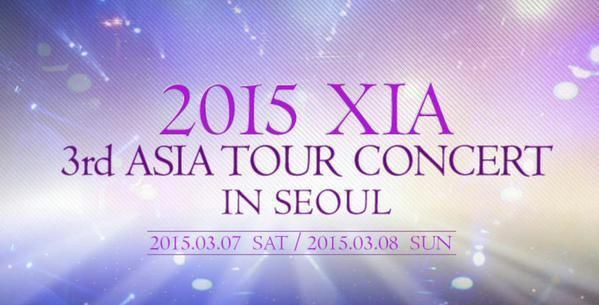 Stehplatz // Standing A-D ~ 132.000 Won ~ 106 € // 119$
VIP 12-15 ~ 132.000 Won ~ 106 € // 119$
R-Seat 10+11; 16+17 ~ 121.000 Won ~ 97 € // 109$
S-Seat 30-33 ~ 110.000 Won ~ 88 € // 99$
A-Seat 29+34 ~ 99.000 Won ~ 79 € // 89$
B-Seat 28+35 ~ 77.000 Won ~ 61 € // 69$
Source: interpark 
Prices calculated by: Xiah Shining Star Germany
Shared by: WBC + Xiah Shining Star Germany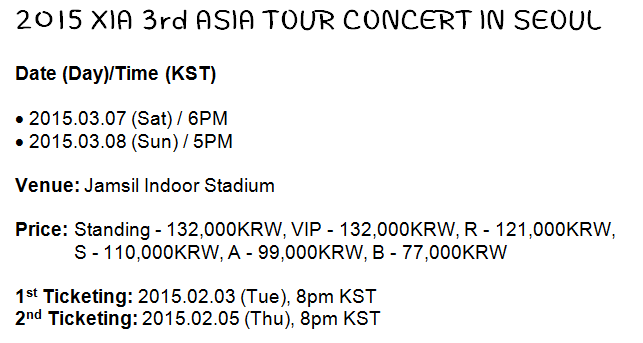 Datum & Uhrzeit (KST):
07.03.2015 (Sa) / 18 Uhr
08.03.2015 (So) / 17 Uhr
Ort: Jamsil Indoor Stadium
Preise:
Stehplatz ~ 132,000 Won [~107 €]
VIP ~ 132,000 Won [~107 €]
R – 121,000 Won [~98 €]
S ~ 110,000 Won [~89 €]
A ~ 99,000 Won [~80 €]
B ~ 77,000 Won [~62 €]
1.Ticketverkauf: 03.02.2015 (Di) / 20 Uhr KST
2.Ticketverkauf: 05.02.2015 (Do) / 20 Uhr KST
Source: interpark
Credit: Shinkipeia
German trans & Price calculation by: Xiah Shining Star Germany
Shared by: WBC + Xiah Shining Star Germany
Credit: @shinkipeia
Shared by: WBC + Xiah Shining Star Germany
JYJ's Kim Junsu hat sein Solo Comeback bestätigt.
C-JeS Entertainment kündigte am 16.Januar an: "Kim Junsu wird mit seinem dritten Solo Album im März zurück kehren. Indem er sein Comeback nach einem Jahr und acht Monaten, seit der Veröffentlichung seines zweiten Solo Albums 'Incredible', startet, wird Kim Junsu das Album in Korea und bei weiteren Aktivitäten in Japan promoten."
Der Sprecher der Agentur fügte hinzu: "Kim Junsu arbeitet derzeit am Titelsong des neuen Albums. Da es schon eine Weile her ist, seit er ein Solo Album veröffentlicht hat, wird er sich eine extremen Veränderung unterziehen."
Mit seinem ersten Solo Album Tarantallegra, welche im Jahr 2012 veröffentlicht worden war, hatte Kim Junsu über 120,000 CDs seines Albums verkauft und wurde zum ersten koreanischen Solo Sänger der eine Welttour in sechs asiatischen Ländern, sowie in New York, Mexiko, Brasilien, Chile und weiteren, startete.
<3 <3 <3 <3 <3
JYJ's Kim Junsu has confirmed his solo comeback.
C-JeS Entertainment announced on January 16, "Kim Junsu will be returning with his third solo album in March. Making his comeback after about one year and eight months since he released the second solo album Incredible, Kim Junsu will be promoting the album in Korea as he carries out tour activities in Japan."
The agency rep added, "Kim Junsu is currently working on the title song for the new album. As it has been a while since he released a solo album, he will be going through an extreme transformation."
With his first solo album Tarantallegra released in 2012, Kim Junsu sold over 120,000 copies of the album and became the first Korean male soloist to launch a world tour in six Asian countries on top of New York, Mexico, Brazil, Chile, and more.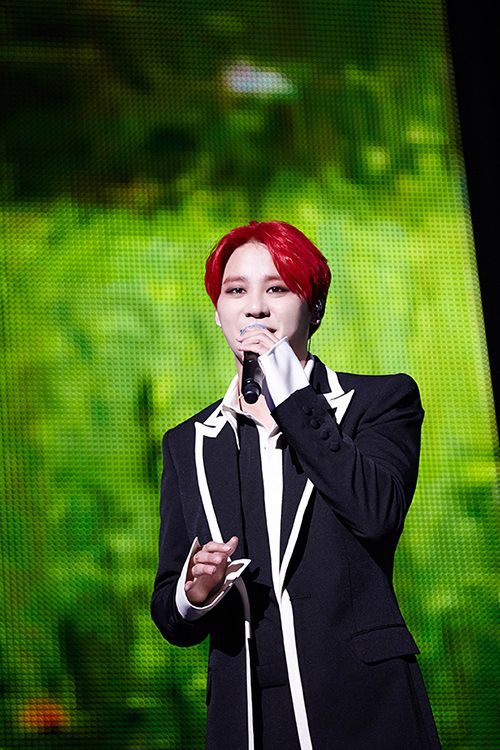 Mit seinem zweiten Album 'Incredible', das im darauf folgenden Jahr veröffentlicht wurde, hatte Kim Junsu Songs aus verschiedenen Genres wie R&B, Dance, Neo Soul, Funky und weitere gezeigt und traf über 100,000 Fans aus sieben asiatischen Ländern, womit er sich als globaler Künstler etablierte.
Der Sprecher fuhr fort: "Experten der Musikindustrie und die Öffentlichkeit haben begeistertes Interesse an Kim Junsus neuen Album gezeigt, da er stets versucht, etwas neues und eine noch extremere Veränderung zu zeigen. Er wird seine einzigartige Bühnenshow mit qualitativ noch hochwertigerer Musik, sowie verstärkte Live Auftritte zeigen."
Kim Junsu bereitet sich derzeit auf sein drittes Solo Album vor.
<3 <3 <3 <3  <3 
With the second album Incredible released the following year, Kim Junsu included songs from various genres, such as R&B, dance, neo soul, funky and more, and met with over 100,000 fans from seven Asian countries, proving himself a global artist.
The rep stated, "The affiliates in the music industry and the public have been showing keen interest for Kim Junsu's new album as he has always tried something new and shown extreme transformation. He will be showing his unique stage with higher quality music as well as further intensified live and performances."
Kim Junsu is currently preparing for his third solo album.
Photo credit: C-JeS Entertainment
Credit: mwave
German trans by: Xiah Shining Star Germany
Shared by: WBC + Xiah Shining Star Germany